How to Storm-Proof Your Home and Make an Insurance Claim
By Jack Woodfield published
Try these expert tips for protecting your home against the oncoming Storm Eunice, which will hit parts of the UK this week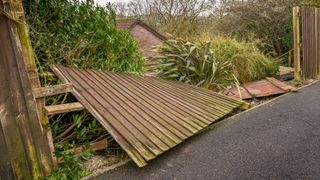 (Image credit: Getty Images)
Storms Dudley and Eunice are gripping the UK this week, so protecting your house and knowing how to make an insurance claim could be vital in the event that your home is affected.
Storm Dudley has left thousands in the north east of England without power, causing travel disruption on roads and train lines. And the Met Office has warned people to "stay indoors" ahead of Storm Eunice moving in, with winds expected to reach 100m on Friday in west Wales and south west England.
This could be a precarious few days for some homeowners, and it's important to plan ahead for how the storms could impact you. You may end up with missing roof tiles and need help tiling a roof, or experience damage from fallen trees and debris, so being aware of your insurance information is essential in case you have to file a claim.
Here's some tips for planning ahead to mitigate against potential damage and some guidance on what you need to do to make a claim.
How to Prepare Your House For Storms
1. Reduce the risk of damage
Checking your gutters are clear can help to prevent water damage to walls, while keeping a close eye on weather updates can keep you informed of local flood warnings.
If your home is prone to flooding, Ross Counsell from GoodMove recommends installing sandbags on doors, windows and any other gaps. He says: "Move electrical equipment and sentimental items upstairs, disconnect all pipes to washing machines and dishwashers and turn off water, gas and electricity mains."
You can also check your roof to see if there are any cracked or loose tiles, which could easily be swept off into your property or onto cars or passersby.
2. Tie down your wheelie bins (and other items that can be blown away)
Not making a reasonable effort to prevent your bins from getting loose means you might not be covered by insurance. Mark Hall from Divert.co.uk says.
"Blown out into the street, even a domestic bin can cause thousands of pounds of damage to a car. Even a small dent could cost you between £50-£150, and that might not be covered by your insurance excess, so it'll come straight out of your pocket."
One way of securing your bins could be to place them in a sheltered spot, or to invest in a wheelie bin lock. Storing away garden furniture such as outdoor log burners and strapping down trampolines can also be worthwhile so you know it'll be where you left it the night before.
3. Stock up, and charge up
Stock up on essentials such as bottled water in case your water supply is affected, as well as candles or lighters in case you lose electrical power.
Make sure you charge your phone too, or have a phone charging power bank to hand. In the event you lose electricity, having a working phone will be important for contacting your insurers, as well as family or friends who may also be affected.
4. Make evacuation plans
The worst-hit homes may lead to some families seeking refuge with family or friends, and business comparison experts Bionic has the following advice: "Switch off all electrical appliances at the switch. If the power suddenly comes back on, you may leave appliances on and unattended without knowing it, which may end up causing a fire.
"You should also leave one or two light switches on. This way, if the power comes back on while you're out of the house, a burglar will assume that someone is still in your house."
What do I do if I Need to Make a Claim?
Home insurance covers damage caused by storms, but whether your insurer will pay for the cost of repairs depends on what caused the damage.
Toolstation says: "Many home insurance providers will cover the cost of repairs if leaks are due to a sudden, unexpected event like a fall tree or damage caused by a storm. But you're likely to have to pay for damage caused by leaks that result from wear and tear or lack of maintenance."
The Association of British Insurers (ABI) said this week that providers will do everything they can to help homeowners recover as quickly as possible, should the storm cause damage to their property.
Hannah Isitt, home insurance expert at GoCompare, has this advice: "No matter what the weather's doing, it's important to get to know your insurance cover inside-out, to avoid any pricey claims being rejected down the line.
"Read your documents carefully - if there's anything you're unsure of, contact your insurance provider for clarification."
If you need to make a claim then do it as soon as you can, and take photos, record damage and note down the date the damage occurred. Some insurers might want to examine damaged items so keep hold of affected items as proof.
Jack has worked in journalism for 11 years and is the News Editor for Homebuilding & Renovating, a role he has had since 2019. He strives to break the most relevant and beneficial stories for self builders, extenders and renovators, including the latest news on the construction materials shortage and hydrogen heating. In 2021 he appeared on BBC's The World at One to discuss the government's planning reforms.
He enjoys testing new tools and gadgets, and having bought his first home in 2013, he has renovated every room and recently finished a garden renovation.
Homebuilding & Renovating Newsletter
Get the latest news, reviews and product advice straight to your inbox.
Thank you for signing up to Homebuilding. You will receive a verification email shortly.
There was a problem. Please refresh the page and try again.