Government Told to Incentivise Self Builders to Build on Brownfield Sites
Ipswich Building Society says economic incentives would make self builders more interested in building on brownfield sites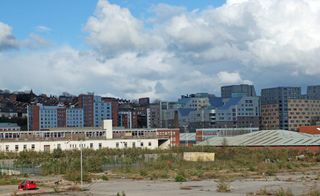 (Image credit: Getty Images)
The government should offer financial incentives to self builders to build on brownfield sites, Ipswich Building Society says. 
New research from the lender says that 82% of those interested in self build would be more likely to build on brownfield sites if they were afforded incentives similar to those currently offered to commercial developers. 
Brownfield sites which may have previously been used for industry or commercial use can be attractive propositions for self builders, but they can be challenging, with contamination risks and structural issues (when converting an existing building into a home) among the potential problems. 
(MORE: What is a Brownfield Site?)
This is part of the reason why developers currently benefit from incentives such as the Land Remediation Tax Relief – which affords them a 50% tax break – to make it more appealing to build on brownfield sites. 
Tax reliefs can improve the profitability of developments on brownfield land, and Ipswich Building Society says similar benefits, such as interest-fee loan to build, could incentivise self builders. 
Richard Norrington, chief executive of Ipswich Building Society, said: "If the government is as serious about encouraging home building as it appears to be from the recent reforms and announcements, it needs to better promote brownfield land registers and it should offer individual self builders parity with commercial developers in terms of economic incentives."
Finding a Self Build Plot
Since 2017, local authorities have been charged with keeping and updating brownfield land registers, providing publicly available information on which sites are suitable for housing. 
The Ipswich BS research survey of just over 2,000 people identified that 35% of respondents were considering a self build project, but 31% were not aware of the land registers. 
When respondents were made aware of the registers, 61% of budding self builders were positive about the prospect of building on brownfield sites.
Norrington added: "Finding a suitable site is one of the biggest challenges that self builders face but in brownfield sites there is a massive opportunity for people who are open-minded and have vision. 
"As well as there being strong social arguments for revitalising these areas, particularly around town centres, there are also sound environmental reasons as building on a brownfield site not only renews the area itself but also reduces urban sprawl."
Meanwhile, the research found that 51% of those attracted to self building were primarily motivated by designing their own layout, 28% wanted to make the decisions about building materials, and 17% wanted to build their own home for economic reasons. 
(MORE: What is the Right to Build?)
Homebuilding & Renovating Newsletter
Get the latest news, reviews and product advice straight to your inbox.
Thank you for signing up to Homebuilding. You will receive a verification email shortly.
There was a problem. Please refresh the page and try again.