Building Safety Bill: Draft Legislation Published to Keep People Safer in Their Homes
By Jack Woodfield published
The draft Building Safety Bill will introduce new rules to help keep building owners accountable for not complying with safety regulations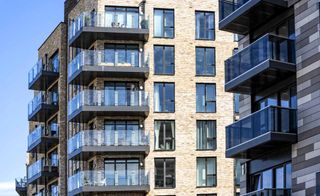 (Image credit: Getty Images)
A draft Building Safety Bill has been published by the government which will bring in new regulations to improve building and fire safety in homes.
The draft legislation has been published in the wake of the Grenfell Tower fire in 2017, which exposed serious failings across the whole system of building and managing high-rise homes.
The Draft Building Safety Bill will enable people living in high-rise buildings to challenge their landlord over inaction, and have better access to safety information about their building. They will also have access to a complaints process.
Notably, new build homebuyers will, for the first time, have the right to complain to a New Homes Ombudsman about problems with their home, and developers could face fines for not complying with fire safety regulations.
Housing secretary Robert Jenrick described the bill as a "significant milestone on our journey to fundamentally improving building safety and delivering real change that will keep people safer in their homes".
Mr Jenrick added: "I remain committed to making sure we get this right, which is why I will be publishing the draft bill for scrutiny and improvement before it is introduced in Parliament. I am also calling on the industry to actively prepare for these changes now."
(MORE: Building Regulations)
What is in the Building Safety Bill?
The draft bill includes a number of new rules designed to enhance the safety of those living in high-rise buildings. These include:
Building owners must provide accurate estimates for building safety charges, and leaseholders can refuse to pay these charges if they are deemed unreasonable or if there is no clear breakdown of costs.
A Building Safety Regulator will be set up to take enforcement action against building owners, or an "Accountable Person", when compliance is not met
New build homebuyers will, for the first time, have the right to complain to a New Homes Ombudsman about problems with their home, and developers will be required in the legislation to be members of the scheme. The New Homes Ombudsman will hold developers to account, and have the ability to require developers to pay compensation
As part of the bill, the government will also grant itself new powers to regulate construction materials and products.
When Will the Rules Apply?
The new rules will apply when a high-rise building is designed, constructed and then occupied. During each of these three stages, it must be clear who is responsible for managing any potential risks.
When someone moves into one of these buildings, this will need to be registered with the aforementioned Building Safety Regulator, a new position which will be finalised within the Health and Safety Executive (HSE).
The regulator will oversee the safety and standard of all high-rise buildings, enforce higher standards of safety and performance, and appoint a panel of residents who will have a voice in the development of building work.
The government will provide the HSE with an extra £16.4m this year to recruit staff and set up the regulator.
Peter Baker, director of the building safety and construction division of the HSE, said: "The BSR [building safety regulator] will create a new era for building safety, working with wider government, local regulators, industry and residents we want to ensure that a tragedy like Grenfell Tower never happens again."
(MORE: Building Inspector: What Do They Do?)
Reaction to the Building Safety Bill
There has been a positive response to the draft bill, which will need to pass before Parliament before it is finalised.
Dame Judith Hackitt, who wrote the Independent Review of Building Regulations and Fire Safety that informed the legislation, said. "I welcome this draft bill as an important milestone in delivering the fundamental reform this industry needs to make residents and buildings safer. It meets the ambitions and recommendations set out in my review.
"And industry must be in no doubt that it is not enough to wait for the bill to become law before they implement changes; we expect them to start taking action now."
Jane Duncan, fire safety group chair at the Royal Institute of British Architects (RIBA), added her seal of approval, but stressed that the government could have used the bill do more:
"This draft legislation makes some positive changes, outlining the functions of the new Building Safety Regulator (BSR), amending the Building Act 1984 and giving the Health and Safety Executive (HSE) much needed power to improve Building Standards," she said.
"However, it's disappointing that the scope of the new regulatory system has not been widened to apply to other high-risk non-residential buildings at any height – fire does not discriminate."
Jack has worked in journalism for 11 years and is the News Editor for Homebuilding & Renovating, a role he has had since 2019. He strives to break the most relevant and beneficial stories for self builders, extenders and renovators, including the latest news on the construction materials shortage and hydrogen heating. In 2021 he appeared on BBC's The World at One to discuss the government's planning reforms.
He enjoys testing new tools and gadgets, and having bought his first home in 2013, he has renovated every room and recently finished a garden renovation.
Homebuilding & Renovating Newsletter
Get the latest news, reviews and product advice straight to your inbox.
Thank you for signing up to Homebuilding. You will receive a verification email shortly.
There was a problem. Please refresh the page and try again.