Affordable Homes Programme gives extra funding for regeneration projects
The extension to the scheme aims to improve houses that are "outdated and no longer fit-for-purpose" in addition to provide more "high-quality homes" faster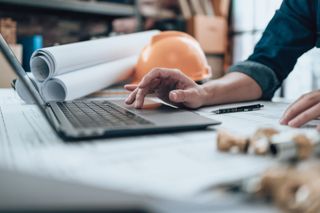 (Image credit: Getty Images)
A UK Government agency has announced that grant funding provided through the Affordable Homes Programme can now be used to fund replacement homes.
Homes England, the public body that funds new affordable housing in England, says the move means it can better support its partners to replace housing that is outdated and no longer fit-for-purpose, with a larger number of high-quality and energy-efficient affordable homes.
The news may have significant ramifications for anyone planning on renovating a house.
What is the Affordable Homes Programme?
In 2020 the government announced new measures to help get more people onto the property ladder, as part of a £12.2 billion investment to increase affordable housing (including £700m for new homes).
The £11.5 billion Affordable Homes Programme aims to provide up to 180,000 new homes across the UK.
Officials also announced that around half of new homes made available through the new Affordable Homes Programme will be eligible for affordable home ownership.
Tom Fyans, deputy chief executive of CPRE, previously criticised the scheme, which he said did not go far enough. He stated: "While this funding seems impressive, it was announced in the Budget and doesn't represent any additional investment to tackle the affordability crisis."
Support the regeneration of homes that are "outdated and no longer fit-for-purpose"
Housing Minister Rachel Maclean said: "We remain committed to building the affordable homes this country needs and a key part of this is improving the quality and supply of social housing.
"The changes… will unlock more affordable housing by ensuring we replace old homes with ones that are fit for the future. This is absolutely critical in helping us regenerate communities, speed up housing delivery and provide high-quality homes for more families.
"I'll continue to work with Homes England and developers to get delivering through this scheme as quickly as possible."
The change will come into effect immediately and funding decisions will be made on a regular basis up until the end of March 2025, subject to availability of funding.
Aims to provide more 'high-quality homes' faster
Grant funding for estate regeneration has already been made available to replace existing homes with new affordable homes and build additional new affordable homes.
Peter Denton, Chief Executive of Homes England, said: "The affordable housing sector has always had to balance the investment it makes in existing homes with the investment in makes in building new homes.
"Over the past year, increasing financial pressures have made achieving that balance even more difficult to manage.
"This change is something the sector has been calling for, and with it there is a real opportunity to accelerate the regeneration of social housing and help level up communities across the country.
"We'll be working quickly to make this funding available to ensure partners can get the maximum benefit from this change, and are ready to use all of the tools, capacity and capability we have available to us to support delivery.
"We encourage all affordable housing providers and local authorities to come and talk to us as early as possible if they need support to develop their proposals – we're here to help."
Get the Homebuilding & Renovating Newsletter
Bring your dream home to life with expert advice, how-to guides and design inspiration, direct to your inbox.
Sam is based in Coventry and has been a news reporter for nearly 20 years. His work has featured in the Mirror, The Sun, MailOnline, the Independent, and news outlets throughout the world. As a copywriter, he has written for clients as diverse as Saint-Gobain, Michelin, Halfords Autocentre, Great British Heating, and Irwin Industrial Tools. During the pandemic, he converted a van into a mini-camper and is currently planning to convert his shed into an office and Star Wars shrine.