Advertisement Feature
Which Material is Best for Bi-Fold Doors?
By Sponsored Content published
Bi-fold door specialists Origin take a look at how aluminium, uPVC and timber compare on qualities such as strength, thermal efficiency, maintenance, style and cost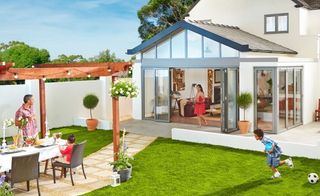 (Image credit: Origin)
Content supplied by Origin (opens in new tab)
Once you have made the decision to install bi-fold doors in your home, placement and size aren't the only considerations. Different materials vary when it comes to performance, longevity and of course, aesthetics — so how do you decide what type of bi-fold door to choose?
Here, we look at the pros and cons of the various material options available.
Strength
Strength is one of the most important factors when it comes to choosing bi-fold doors. The frames have to support huge panes of glass, and be durable enough to withstand constant use and bad weather.
Aluminium
Aluminium is comparatively stronger than timber or uPVC and can therefore support more glass on thinner frames. This allows you to keep framework to a minimum, leaving views unobstructed while letting light in.
Due to the strength of this metal, aluminium can be specified for corner posts and bay windows, which is not possible with timber or uPVC. Aluminium bi-fold doors are also resistant to flexing or twisting, and very well suited to variable temperatures as they don't expand and contract with heat variation. This means they are a great choice for coastal locations or places where they are frequently exposed to direct sunlight.
Summary
Strongest material available
Option for smaller frames, more glass and better views
Suited to corner or bay window doors
Lightweight and easy to open/close
Timber
The timber used in bi-fold doors is often engineered timber, which is much stronger than solid timber. It is made from pieces of wood glued together with polyurethane, and it is these layers that provide strength. However, engineered timber can still warp if it absorbs too much moisture or is overexposed to sunlight. Once warped, the gaskets can't be sealed properly and the doors will not fully close, leading to draughts and weak-points.
Summary
Engineered wood is much stronger than solid timber
Any timber is prone to becoming weakened by sunlight and water ingress
Sturdy but can feel quite heavy to manoeuvre
uPVC
Bi-fold doors made from uPVC offer similar strength to timber. Just like timber they can also warp in extreme weather and will expand or contract as the temperature changes. This means they can become damaged by adverse weather and become difficult to open or close.
Summary
Vulnerable to temperature changes
Warping weakens them and affects use
Thermal efficiency
As glazing makes up most of the bi-fold door, it is the glass that has the biggest impact on thermal efficiency, but the frames can also affect the overall performance. Thermal efficiency is measured in what is known as a U-value. This represents the rate at which heat passes through a material and tells us how good it is at insulating.
All bi-fold doors must have a U-value of at least 1.8W/m2. The U-value should be for the glass and framework combined — clarify this with the supplier as some will quote for just the glass. The lower the value, the better the material is as a heat insulator.
Aluminium
Metal is a good conductor, so aluminium has often been associated with poor thermal efficiency as the frame acts as a thermal bridge leading to quicker heat loss. However, most aluminium bi-fold doors include a thermal break. The break is made of a less conductive material (Origin use polyamide) and sits between the interior and exterior faces of the frame to manage heat loss.
Aluminium doors can be environmentally friendly from more than just a thermal efficiency point of view. Aluminium is widely recycled and many companies make their doors from recycled metal (Origin recycles 100% of all scrap aluminium produced when manufacturing their products).
Summary
Thermal breaks can be added to frames to bring the U-value down (Origin's doors have a U-value of 1.3W/m2)
Recycled aluminium is available which lowers the environmental impact of their production
Timber
Timber is less conductive than metal, and the average timber bi-fold has a U-value of 1.4W/m2. Efficiency can be improved using similar methods to those used for aluminium doors, but as timber doors are prone to contracting in cold weather causing gaps, their thermal efficiency can be affected.
If you choose timber, always look for wood that has been come from a Forestry Stewardship Council certified source.
Summary
Average U-value for timber is 1.4W/m2
Be aware that warped doors will have gaps that allow draughts and reduce efficiency
uPVC
With a typical U-value of 1.7W/m2, uPVC has the lowest level of thermal efficiency. Just like wood, efficiency can be affected by any changes to the doors that might come about from heat and weather changes.
Of all the materials, uPVC is also the least environmentally friendly. If you do choose uPVC, ask the supplier about the environmental attributes of their bi-fold doors — some have started using recycled plastic.
Summary
uPVC has the highest U-value (average of 1.7W/m2) compared to timber and aluminium
As they are prone to warping, their thermal efficiency can decrease
Maintenance
Nobody wants to be constantly painting, repairing or replacing their doors, so it makes sense to choose a material that will stand up to the elements. Look for bi-fold doors that are weather rated to British Standards.
Aluminium
SummaryAluminium is very low-maintenance as they are often powder coated and don't require repainting. They will not corrode, discolour, rot or warp, and they are resistant to fading in the sunlight. They just need cleaning yearly with soapy water to keep them in good condition.
Summary
Only need cleaning once a year
Available with a marine grade finish to prevent rusting in coastal climates
Can also be finished to withstand chlorine in swimming pool environments
Timber
Timber bi-fold doors will require the most maintenance. Expect to paint them every few years to keep them sealed and looking their best. Doors positioned on exposed elevations or ones that get a lot of sun may need painting even more frequently.
Summary
Need painting every few years
Will require extra maintenance if installed in places with more extreme weather
uPVC
While uPVC is very low maintenance, it can be easily damaged by the sun and gets scratched more easily than aluminium. Clean them once a year with warm soapy water to keep them looking their best.
Summary
Low maintenance — uPVC just needs cleaning every year
Unlike timber, uPVC bi-fold doors can't be painted if they start to look tired
Style
Looks can have a big influence on which material you decide to buy. Certain materials offer a look that is more suited to different styles of house, and while practicality should reign, the aesthetic incredibly important too.
Aluminium
When used for doors and windows, aluminium is usually powder coated. A solvent-free powder is applied to the metal at a high temperature, creating a durable finish in pretty much any colour. Origin provide over 150 RAL colours, but you can also get metallic and wood-effect finishes. Powder coating also offers the option to have the interior and exterior finished in different colours.
Due to the range of finishes available, aluminium bi-fold doors can easily be matched to contemporary and traditional homes. The option for thinner frames also means that you can really make the most of a view.
Summary
Aluminium can have thinner frames meaning the appearance of larger expanses of glass
Powder coating offers a wide range of colours and finishes
You can have different colours inside and out
Aluminium suits modern and period homes
Timber
Timber is a popular choice of material for doors and windows, especially in period properties which often have timber sash or casement windows elsewhere. Naturally beautiful, it offers a 'warmer' feel than aluminium or uPVC, and can also be painted in any colour you like.
Timber bi-fold doors can be clad in powder coated aluminium to make them sturdier and more low maintenance. This is advisable in sunny places and harsher climates, but it quite an expensive solution compared to wood-grain-effect aluminium.
Summary
Timber is the most popular choice for traditional homes
It works well with contemporary homes too
It can be painted or stained to suit any style, but requires frequent maintenance
uPVC
Timber and aluminium are far more desirable options than uPVC — in fact when uPVC is used, many opt for a wood-effect. It can look cheap and is particularly unflattering on period properties.
When it comes to bi-fold doors, uPVC frames are much wider than aluminium and even timber, resulting in a bulky look that obscures the view from the inside. Some companies offer coloured uPVC bi-fold doors, but white, grey, black and wood grain are more widely available.
uPVC can look 'cheap' compared to timber and aluminium equivalents
There is less choice when it comes to colours and finishes
Frames tend to be larger so uPVC is not best if you are going for a minimalist look
Price
You should not make a choice about which bi-fold doors to buy based on cost alone, but it is inevitable that price will come into question, especially if you are working to a strict budget. As with anything, you get what you pay for, so factor in the lifespan of a product before discounting it — it is more sensible to choose the product that will last three times as long, even if it costs twice the amount initially.
Aluminium
The cost of aluminium bi-fold doors can put many people off, as they are the most expensive. However, the outlay is one that you are unlikely to have to make again as they last well over 30 years. Aluminium bi-folds also tend to be more durable than timber or uPVC so you are paying for quality (Origin's doors are handmade and go through a rigorous checking process prior to installation too).
Cost: around £3,000 for a four bi-fold door set (excluding glass & installation)
Timber
Despite being more vulnerable to damage, solid timber bi-fold doors are more expensive than engineered timber. They also require more maintenance, which will add to their cost over time. If you want a more durable timber door, composite (timber clad in aluminium) bi-fold doors are the best option — but also the most expensive.
Timber can last for several decades if they are properly maintained, but most manufacturers give a basic 10-year guarantee as standard.
Cost (for a four bi-fold door set, excluding glass & installation)
Solid timber: around £3,000
Engineered timber: around £2,000
Composite timber: around £5,000
uPVC
Because they are mass produced, uPVC bi-fold doors are the cheapest option. Most carry a 10-year guarantee, but think about how their longevity might be affected by intense sunlight if you place them on a south-facing elevation.
Cost: around £1,500 for a four bi-fold door set.
Homebuilding & Renovating Newsletter
Get the latest news, reviews and product advice straight to your inbox.
Thank you for signing up to Homebuilding. You will receive a verification email shortly.
There was a problem. Please refresh the page and try again.