Advertisement Feature
5 Ways to Create a Better Connection with the Great Outdoors
By Sponsored Content published
If you're looking to fill your home with natural light with strong links to the outside, embrace these great design tips that will transform even the darkest home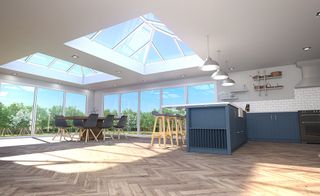 (Image credit: Made for Trade)
COPY SUPPLIED FOR MADE FOR TRADE (opens in new tab)
Let the Light in From Above
Rooflights and roof lanterns are a great way to make your home feel larger and more open. Korniche (opens in new tab) roof lanterns let in three times more natural light than vertical windows in the day while the slim aluminium frames views of the stars at night. Not only can roof lanterns come self-cleaning with thermally efficiency but they are also a sleek and eye-catching feature in any home.
Open Up…
Ensure Efficiency
Be sure to make sure your home is as efficient as it can be and keep the warm in and the cold out by choosing windows and doors that have great thermal credentials.
Create seamless transitions between home and garden with bifolding doors; the ultimate addition to a new home or extension.
When the glazed doors are folded back, living spaces feel larger and more spacious as the eye is drawn to the outside.
Stay Low with Thresholds
Keeping your door thresholds low will create the illusion of one large living space that extends outside, rather than highlighting a separate indoor/outdoor boundary.Low weather rated thresholds are the way to go and the new Korniche bifolds will have one of the lowest standard thresholds available.
Pairing low bifold thresholds with matching flooring – perhaps the polished and non-slip version of tiles – from the house out into the garden is an ideal way to maximise connections with the outside.
Sleek Design
Being realistic about how often British weather allows for homes to be completely open to the elements is key to a well-planned space. Slim sightlines inspire a sleek and polished finish with uninterrupted views of the outside when windows and doors are shut meaning you can enjoy the outside all year round.
Create the Illusion of Added Space
Consider the furniture around your doors as well — does the product come with flush fitting handles or hidden hinges? The impact of reducing this visual noise is wonderfully effective when creating a connection with the outdoors, creating the illusion of added space and light without interruption. For the latest product in contemporary aluminium bifolds, pre-order the new Korniche (opens in new tab) bifold doors – which offer extra-slim sightlines and concealed hinges and guides – available for dispatch from January.
Homebuilding & Renovating Newsletter
Get the latest news, reviews and product advice straight to your inbox.
Thank you for signing up to Homebuilding. You will receive a verification email shortly.
There was a problem. Please refresh the page and try again.