Trades: Brickwork
By David Snell
Who does what, and when? It might seem obvious, but when you employ a bricklayer it pays to know exactly what they are responsible for, and when, and how much you can expect to pay them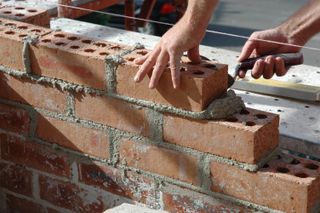 (Image credit: getty images)
Many self-builders – especially those on a low budget – choose to build using subcontractors.
In some ways this is like learning to swim in the deep end: choosing to build without the backup of a builder and taking on a project that in most cases is way outside their normal life experience. Most are successful. Most experience a very steep learning curve that involves mistakes, delays and misunderstandings on site, which the repeat self-builder will make certain never happen again.
Learning the sequence of events on a building site is invaluable. Learning what each trade does and where their responsibilities begin and end is vital. And learning that the critical path in building can so easily be thrown off course – and how to get it back on track again – is essential.
Listing the tasks of each trade is one thing. But most trades overlap to some degree and it's important to understand the grey areas between, which can be the responsibility of a builder but which often falls to the self-builder.
Bricklayers are invariably labour only, supplying only their own hand tools. All materials and especially the sand of their choice must be ready on site together with:
water in a butt
a mixer; the mixing station will need to be near the sand and the store of cement dust
spot boards to put the mortar on (600mm x 600mm ply)
scaffolding — preferably hire and erect; if you are unsure about who to contact, the bricklayers will often have recommendations of their own
profiles, if they're not building joinery straight in
Who do they work with?
They may work alongside the groundworkers for the foundations
They'll need carpenters available at first floor joists, if they're timber. If they're beam and block they'll need to liaise with the groundworkers, unless they're doing them
They work with the carpenter to bed the wall plates
They wait for the carpenter to sling the end trusses to establish the rake up the gables
They work with the plumbers and roofers to point in any flashings
They fit in with the groundworkers on hard landscaping
What do they do?
Lay blockwork foundations to damp-proof course (dpc)
Build honeycomb sleeper walls (suspended timber floors only)
Build in below-ground drainage exit lintels
Build in cranked ventilators for beam and block floors, or airbricks and cavity sleeves
Bed dpc
Bed plates (timber suspended floors only)
Position floor beams and lay infill blocks
Brush grout flooring
Build superstructure brickwork and blockwork
Install cavity insulation as work progresses
Create openings for windows and doors
Install cavity closers
Fit windows and door frames if appropriate
Build in meter boxes
Bed lintels
Lay padstones
Position steel joists and beams
Lay first floor beams and infill with blocks
Install cavity trays where necessary
Bed wall plate
Build up gable ends
Build chimney through roof
Build internal brick features and fireplaces
Point up flashings and trays
Fill putlock holes
Build feature walling to garden
If they're laying the foundation blocks they'll need to be on site at the end of the first week.
Even if they're not, it's as well for them to check levels and square for the subsequent superstructure
It will take five to six weeks to get to roof level on a normal house, perhaps twice as long on a larger or more complicated one
They'll need to be available for a day or two to liaise and work with the plumbers and roofers
A day might be needed to fill in putlock holes
Fancy brickwork such as fireplaces or decorative internal walls will be done on daywork
They may need to come back at the later stages of the job to build walls
As with all trades, the best way of finding a good bricklayer is by recommendation, preferably from another local self-builder. Alternatively, you could ask other tradespeople for their recommendation; those who work alongside bricklayers such as groundworkers and carpenters are in a good position to judge.
You may find adverts for bricklayers in small local newspapers; if you do, you'll still need to investigate before employing them.
Once you have a recommendation, you'll need to decide if their work is of a high quality. If they are available immediately, ask yourself why. It may be that they are between jobs, but do talk to their previous clients. It's also worth looking at their previous work:
Do the vertical joints (the 'perps') line up?
Are the horizontal joints (the 'beds') level and even?
If the building is still in progress, check that the cavities are clean and the wall ties are correctly spaced and clean from 'snots' (lumps of cement left that can cause cold-bridging). Are all the cavity trays and damp-proof courses correctly and neatly installed? Look for smudged brickwork and for lines of splashed mortar where the scaffold boards haven't been turned back in the evening and the rain has splashed it into the brickwork. With brickwork, check that the joints, especially the vertical ones, are properly filled, with no air gaps (this aids airtightness and insulation).
You can ask a bricklayer to produce a sample panel to check the quality of their work in a particular bond and to see how your chosen brick will look with your specified mortar.
Around £150-£200 per day per bricklayer, plus £100-£130 for a labourer. Bricklayers often quote per 1,000 laid bricks — often around £400-£5,000, or £12-£15/m².
Some tasks may be the responsibility of the bricklayer, or another trade. So check whether your bricklayer will be responsible for:
Beam and block floors
Doing the foundation blockwork
Bedding the plate and pointing in leadwork
Homebuilding & Renovating Newsletter
Get the latest news, expert advice and product inspiration straight to your inbox.
Thank you for signing up to Homebuilding. You will receive a verification email shortly.
There was a problem. Please refresh the page and try again.