Advertisement Feature
Think You Can't Have a Basement in a Flood Zone? Think Again
By Sponsored Content published
The launch of a fully-insurable, warranty-backed basement system gives homeowners wanting to build a basement in a flood zone both extra space and peace of mind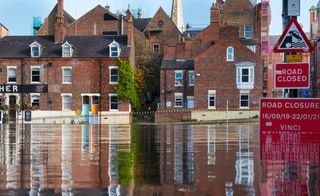 (Image credit: Glatthaar Fertigkeller)
CONTENT SUPPLIED BY GLATTHAAR FERTIGKELLER
According to the National Environment Agency, approximately one in six properties are at risk of flooding each year. If there was an unlimited amount of land available on which people could build their own house, no-one would choose to build in a flood zone. But as competition for land is so high, it is sometimes the only way.
If you are looking to build or improve a property located in a flood zone, then you need to plan for flooding mitigation from the start.
Why is Building a Basement in a Flood Zone Problematic?
If your plot is located in a flood zone, then that will play a part in whether you can get planning permission for your new basement, whether as part of a new build scheme or an extension of your existing home. It is likely that permission will come with conditions attached which must be met in order to proceed. Insuring your property can also be tricky if it is located in a flood zone, if it doesn't meet certain criteria.
When it comes to building a basement in a flood zone, if you can't prevent water ingress, then it could be disastrous and extremely costly.
How is it Possible to Build a Basement in a Flood Zone?
Benefits of AquaSafe from Glatthaar
The AquaSafe basement from Glatthaar offers optimal protection against penetrating moisture. Precast concrete panels and additional tanking of the external joints and walls means that this system offers 100% protection against moisture and water ingress.
Further waterproofing options are available to prevent against seepage and pressing water. A simple ground survey will determine which waterproofing system will be necessary for your basement.
Manufactured offsite, these basements offer a fast construction time and precision finish.
Basements are a great way to add extra space and value to your home, but in a flood zone, you'll need a solution that is designed specifically for those conditions, with an insurance-backed guarantee. You will also need to make sure that your basement's intended use is in line with regulatory guidance.
After rigorous examination and testing, Glatthaar Fertigkeller's precision, pre-manufactured basement system and installation methods have been type-approved by the Build Zone Insurance Company. This means that self builders can now secure a insurance-backed warranty against water ingress, even in flood zones, when choosing Glatthaar basement installations.
For more information about building a basement, contact Glatthaar Fertigkeller (opens in new tab).
Homebuilding & Renovating Newsletter
Get the latest news, reviews and product advice straight to your inbox.
Thank you for signing up to Homebuilding. You will receive a verification email shortly.
There was a problem. Please refresh the page and try again.