6 Savvy DIY Hacks for Beginners and Pros
By Emma Downer published
Looking for some DIY hacks? Here's Emma Downer's top tips to make your life easier during your next project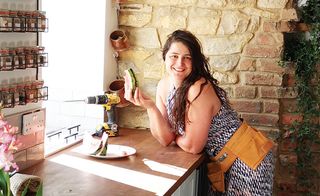 (Image credit: Emma Downer)
The last 18 months has seen a huge rise in people taking on the work of renovating a house themselves, and if you are set on doing most of the work yourself, it helps to have some handy hacks to make light of trickier projects.
Whether you're a complete beginner or a seasoned DIY pro, these are six top DIY hacks that everyone can try to help you get jobs done faster.
1. Paint Tricky Areas With a Painting Mitt
Save time painting tricky areas, like stair spindles, by using a painting mitt. Usually made from lamb's wool, painting mitts have been around for decades to help with getting into all of those awkward crevices.
Taking this one step further, savvy DIYers can also use old gloves or an odd sock to complete the same job, making this a truly time-saving DIY for anyone who wants to varnish furniture legs or give their stairs a fresh look.
2. Use Food Jars for Your Spare Paint
It makes sense to save a small amount of paint from a decorating project, for when someone inevitably knocks into your freshly painted wall. But what about all of those half-filled paint pots that are now taking up space in your shed?
Save your food jars and use these as space savers by filling them up with your spare paint. Fill to the top and shake the pot, before storing, to ensure that any gaps in the lid are sealed and the paint won't dry out.
3. Hide Wallpaper Seams Like a Pro
Butting up the edges of wallpaper can be a tricky business. To ensure a good join between the two, a really useful hack is to overlap the edges of the sheets and run a wallpaper knife through both layers to create an exact match.
This method of joining is often used by carpet fitters; some favour the ''serpentine line'' (a squiggly, rather than a straight line) which makes the join less obvious. This is ideal for plain papers or those with a random pattern.
4. Reuse Your Raw Materials
Before you throw out old items, have a look at what raw materials they're made of to see what they could become.
For example, a solid wood chopping board can be reused for multiple new applications, such as a decorative mount for a mirror, or cut down to be a shelf. And hardware salvaged from broken vintage furniture can be reused on budget furniture to give it a more classic and expensive look.
5. Know When to Bleed Your Radiators
Did you know that excess air in your heating system can make your heating less efficient? If you can hear sounds of gurgling or popping it's probably a good time to bleed your radiators of any excess air.
This can be done with a radiator key via the valve usually located at the top of the radiator. Bleeding radiators may result in lowered pressure in your boiler system, so check the manual of your specific boiler unit to see how to increase the pressure again.
(MORE: The Best Radiators for Good Looks, Efficiency and Value for Money)
6. Make Driving Screws Easier
If you've ever found yourself stripping the head off your screws with your hammer drill, you'll know how frustrating it can be. If this sounds familiar, it may be time to pick up an impact driver.
An impact driver's primary use is to make light work of driving screws, by adding a little kick to its rotation when it starts to meet resistance. This is unlike a regular drill which maintains its level of force regardless.
An impact driver is one of the best cordless drills and it's also more lightweight than hammer drills — it should be an essential part of any toolbox.
Emma is a UK-based DIY educator and director of the social media brand ''DIY With Emma'' whose primary mission is to help more people get into DIY through sharing DIY Hacks, How-to's, and Follow-Along projects.
Homebuilding & Renovating Newsletter
Get the latest news, reviews and product advice straight to your inbox.
Thank you for signing up to Homebuilding. You will receive a verification email shortly.
There was a problem. Please refresh the page and try again.