Top 10 Rewiring Tips
By Sian Astley published
Serial renovator and TV presenter Sian Astley shares her top tips on rewiring a property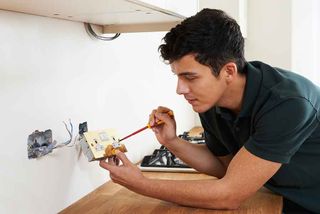 (Image credit: iStock)
If you're thinking about rewiring your home, read these top tips before you start.
1. Approach the work with care
Rewiring needs a careful approach and, like all electrical installation work, is subject to regulation and legislation. Part P of the Buildings Regulations deals with electrical safety in domestic dwellings, and covers significant alterations and new additions (such as new kitchens and extensions) in UK homes.
2. Understand when rewiring is needed
Homes which have not been touched or rewired for over 20 to 30 years usually require attention. This is not only because the wiring is potentially dangerous but also because older wiring systems can't cope with the demands of modern living.
Old round switches, rubber or fabric cabling last installed in the 1960s, or sockets fixed to the skirting boards are all signs that that a house needs rewiring. A modern consumer unit will have circuit breakers and residual circuit devices (RCDs). An old fusebox has fuses with replaceable wires. If you have a fusebox with a wooden back and a mixed selection of fuses, maybe even cast iron, then it needs to be replaced.
3. Plan carefully before work starts
Rewiring a property is messy, disruptive work. It happens in two stages:
first fix, when cables and wiring are installed
second fix when everything is joined up or made 'live', when the front faces of sockets, switches and lights are fitted.
Those runs of wires go everywhere: under floors, through walls and across ceilings, so first fix is best done without carpets or furniture, so floorboards can be lifted and ceilings cut into. To position new sockets and switches at legally correct heights, plaster generally needs to be chased into, too. This is why it's important to plan what's going where in each room before starting the first fix stage, so you know where you need lights, plug points and any other electrically driven items.
(MORE: Find an electrician for your project)
4. Avoid additions mid-way through
They are costly and time consuming. One way to avoid them is by drawing a plan of your home with each room on graph paper and marking up the position of beds, sofas, kitchen units and so on. You can then consider the lighting and switches required. Little things like under-cabinet and bedside lighting are easy to do when planned from the start, but costly to undertake later.
As well as thinking about task, mood and feature lighting, remember smoke and heat alarms, garden RCD safety sockets and external security lights.
5. Think about futureproofing
Today we are a super-consuming society hooked on 'tech'. In terms of electrics, this means mood lighting, surround sound, high-speed Wi-Fi, kitchen gadgets and TVs in the bathroom. Electrical circuits must be up to the job — and you need to plan ahead.
Do you want ethernet cable to every room to ensure uninterrupted Wi-Fi (or perhaps just living spaces and bedrooms)?
Will you want speakers in each room or a security system?
6. Move out if possible
Full rewires usually happen when homes are empty, but for hardened homeowners it is possible to live in one room while having works happen around you. If you can't move out, dust-cover furniture and expensive items, preferably moving electrical equipment into a separate room, as this is not your electrician's responsibility. Get your electrician to install the new consumer unit and prep your habitable room with a temporary supply of sockets.
7. Understand how electricians work
Most competent and qualified electricians work on a fixed-price basis for domestic work, then add in costs for alterations. Most include first fix supply and fit, which includes cabling and back boxes as standard, then discuss with the client the specification for the second fix.
You can try and keep costs down with a friendly electrician by prepping everything for them, such as chasing out plasterwork, lifting floorboards and generally making access easy to save time. As long as both you and your electrician are aware at the start of works of the division of tasks, the competent renovator can chase plaster out to exactly where they want sockets and switches, buy the switches, sockets and lighting and maybe even assist with the installation.
You might get some good prices online but a professional often gets preferential trade rates, so double-check whose prices are best.
8. Consider doing the work yourself
It is possible to do the works yourself but you do need to know what you're doing. This involves making a Building Regulations application, having your work inspected before and after completion by a qualified electrician then having a safety certificate issued which passes that work.
Make sure you have someone in place before you start, as many professionals will not sign off someone else's installation. There's a risk with this approach, both from a safety and a financial perspective.
9. Understand your costs
The costs of rewiring, including first and second fix with standard sockets and switches and excluding light fittings, should be around £1,000-£1,500 for a kitchen extension.
The UK average cost for rewiring a three-bed semi is £3,500; the price will vary depending on where you live.
Other variables include the size of the house, how accessible/empty the property is and the complexity and standard of the finish.
10. Understand your timings
A kitchen rewire may take two days, a three-bed semi probably two days to first fix, then the same again to second fix. A larger property will take much longer.
Sian Astley is a TV presenter, interior designer, self-builder and serial renovator
Homebuilding & Renovating Newsletter
Get the latest news, reviews and product advice straight to your inbox.
Thank you for signing up to Homebuilding. You will receive a verification email shortly.
There was a problem. Please refresh the page and try again.