Advertisement Feature
Retrofitting Underfloor Heating: 5 Things to Consider
By Sponsored Content published
Warm water underfloor heating (UFH) is one of the most desirable heating systems for a home as it offers a discreet solution with a comfortable heating profile.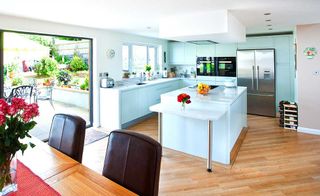 (Image credit: Nu-Heat)
Content Supplied by Nu-Heat
Warm water underfloor heating (UFH) is one of the most desirable heating systems for a home as it offers a discreet solution with a comfortable heating profile.
With a wide range of systems specifically developed for retrofitting now available, we look at five things to consider when choosing UFH for your renovation or extension:
1. Is my property suitable?
Yes – is the most likely answer!
The most important factor when considering UFH for your property is insulation – as the level of insulation dictates the heat output needed to keep the property warm. All new UK properties will be suitable for UFH, as they meet strict guidelines on insulation and air tightness.
Older properties can benefit from UFH, too, thanks to retrofit solutions that offer higher heat outputs. These low profile UFH systems are ideal for older properties, where UFH would not previously have been an option.
It is essential that the retrofit underfloor heating can perform as expected and a good design and supply company will work with you to recommend the most suitable solution for your project/property.
2. What about the existing radiator system?
It doesn't matter if the rest of the property is heated by radiators – single zone underfloor heating kits, such as Nu-Heat's OneZone™ (opens in new tab) products, can be quickly and easily integrated into any existing heating system. LoPro™Max OneZone™ heats up and cools down as quickly as a radiator system so can work on the same time clock and is particularly well suited to kitchens, conservatories and areas with large amounts of glazing or lower levels of insulation.
UFH can even be mixed and installed through old and new parts of a property.
3. Will I have to dig up the existing floor?
No, the purpose of retrofit UFH systems is that they are simply laid directly over the existing floor without the need for excavation.
Nu-Heat's low profile underfloor heating range has been developed as a solution to installing UFH in existing properties with height build-up restrictions. LoPro™10, for example, can be installed over any existing floor and on any floor level and has a height build-up of just 15mm, the same as a 5p coin.
4. UFH is cheap to run
You can enjoy warm water UFH that heats up as quickly as a radiator, giving an instant and consistent warmth, at one-third of the running cost of electric UFH! And, when paired with a modern condensing boiler, UFH is cheaper to run and approximately 25% more efficient than radiators.
5. UFH works with most floor coverings – even carpet
Including:
Ceramic tiles, slate & limestone
Engineered hardwoods
Carpet & underlay
Linoleum & vinyl
A solution for your project
Depending on your project, one of the LoPro™ systems will work for you. If time is of the essence and you need the lowest profile available, look at LoPro™10 (opens in new tab). Because LoPro™10 is a dry system you won't have to wait for a thick screed to dry, meaning you can fit your chosen floor covering immediately. If you need a higher heat output and a perfectly level surface, look at LoPro™Max (opens in new tab). LoPro™Max uses a fast drying self-levelling screed and the floor is ready for your chosen covering after just 72 hours.
Superior heat outputs, acoustic benefits, straightforward installation and low running costs make LoPro™ the obvious choice for any renovation or conversion project.
More information on retrofit underfloor heating solutions can be found at www.nu-heat.co.uk/lopro (opens in new tab)
Homebuilding & Renovating Newsletter
Get the latest news, reviews and product advice straight to your inbox.
Thank you for signing up to Homebuilding. You will receive a verification email shortly.
There was a problem. Please refresh the page and try again.