Repairing Solid Floors
By Ian Rock published
Whether concrete or stone and wood laid over earth, old solid floors can be subject to a number of ailments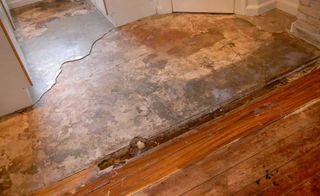 (Image credit: iStock)
Old floors come in many forms — which can mean a variety of problems. While the first floors of period homes generally feature some form of timber joist and board construction, ground floors have traditionally consisted of lime-based ground floor slabs or tiles laid straight onto soil. This age-old method worked by allowing moisture from the ground to evaporate out via joints between the tiles. In Victorian times, suspended timbers tended to be used in most rooms, but rudimentary solid floors were still popular in areas such as kitchens and hallways.
However, by the 1930s, solid concrete floors became the norm, right up until the advent of modern beam and block suspended concrete floors in the late 1990s. And this wasn't just the case in new builds of the mid to late 20th century, as many old rudimentary floors in existing homes were dug up and replaced with concrete.
On the plus side, concrete isn't going to rot, so the odd spot of damp in the vicinity shouldn't be a major problem. The floors are, however, prone to a surprising array of afflictions — indeed, until quite recently, solid floors were one of the largest areas for claims under new-build NHBC warranties.
It's surprising to note that damp-proof membranes (DPMs) embedded within solid floors did not become a Building Regulations requirement until as late as 1967. However, it was common practice to apply a layer of bitumen on top of the floor slab to stick down woodblock flooring or thermoplastic floor tiles, which acted as a basic DPM.
Today, new solid floors are far more substantial, typically comprising 150mm of compacted hardcore, 50mm of sand, a polythene sheet DPM, 100mm of concrete, then around 100mm of insulation plus a 60mm screed — in total, more than 450mm thick.
Tiles and flagstones
The Victorians developed floor tiling into an art form, with exotically patterned geometric and decorative encaustic tiles. However, the most common solid floor finish was plain quarry tiles held in place on a bed of lime mortar, and most are still going strong today.
Maintenance
Normally, tiled or flagstone floors require very little maintenance, just occasional light scrubbing with a stiff brush and soapy hot water. Abrasive cleaning methods, such as rubbing with scouring powder, should be avoided.
To bring out the colour of old stone flags or clay tiles, simply apply a smear of beeswax. The most common problem is where the odd tile has come loose or is broken. These can usually be prised out with a knife and relaid in fresh lime mortar.
In some old homes, the original decorative tiles may well be beyond repair. In which case, replacing a Victorian tiled hallway of 1.5m wide by 4m long (6m²) on an existing screed – using 15cm² tiles laid in a classic 'chequerboard' Ennerdale pattern – will cost in the region of £1,300.
Woodblock Laid on Earth
'Parquet' flooring refers to small blocks of solid wood, such as oak or maple, laid in a geometrical pattern. These were popular in more expensive houses from the Edwardian period onwards.
Maintenance
Woodblock floors were bedded in a layer of hot asphalt bitumen adhesive as a basic moisture barrier. Over time, however, individual blocks sometimes come loose, although having them reset should be relatively straightforward.
In terms of maintenance, built-up layers of old polish can be removed using a suitable solvent, and the floor given a light sanding by hand before applying a traditional finish of natural oil or wax polish.
Sunken or Bulging Concrete Ground Floors
Unevenness, cracked floor tiles, floors that sound hollow when stamped on, doors that stick, gaps below skirtings and/or humping to the floor in localised areas, are all signs of problems to the concrete ground floor slab beneath.
A certain amount of unevenness and slight settlement is not unusual in older solid floors.
Issues
If the settlement is not excessive, the simplest solution is to lay a self-levelling screed over the existing surface. The main cause of more pronounced sinking, however, is poor compaction of the original hardcore prior to it being covered in concrete. As a result, parts of the hardcore base can start to settle many years later, causing the floor to sink and crack. This may be most evident around the edges of rooms; for example at door thresholds, where there may be a slight 'hump' because the wall is likely to have deeper foundations compared to the surrounding floors.
While rare, another problem for existing homes built on clay subsoil can occur when the excavation for the floor slab was not sufficiently deep. A long period of drought can result in shrinkage, causing floors to subside.
Again, although not common, concrete floors can also be prone to 'bulging'. This is typically due to a chemical reaction between cement-based concrete and some types of hardcore which contain sulphate (i.e. from old clinker from fireplaces, colliery shale from mining or power station waste), used from the mid century up until the 1970s. This causes the concrete floor to expand and push upwards, crack and bulge like a small mound. The classic example would be a house built in the 1950s where the floor has risen up in the middle of the living room.
Remedial work
A severely dropped and/or cracked floor slab may need digging up and completely re-laying. If the problem is acute but localised, concrete can be pumped into the gaps that have formed in the floor by 'pressure grouting' through holes at 1m spacings in the slab — an expensive, specialist job.
Solid Floor Ailments
One issue which can impact on solid floors is screed failure (as seen at the top of the page). Another serious problem is sulphate attack on ground floor concrete slabs. It can occur when the hardcore beneath the concrete contains sulphates – typically from mining and industrial by-products, quite commonly used between 1945 and 1970 – and these reach the concrete above, typically in the presence of moisture and where there is no damp-proof membrane.
The sulphate reacts with the concrete causing it to expand — over time, the concrete will heave, causing cracks and damage to the floor above; it may even lead to the concrete disintegrating. This can have an impact on surrounding walls, too.
Damp Flooring Laid on Solid Floors
A wet floor surface, damp found beneath the surface of vinyl flooring, lifting or cracked floor tiles, and/or tiles that sound hollow as you step on them — all can be signs that damp is having an impact on your solid floor.
Leaks from defective plumbing are a common cause of damp. Copper pipes, such as those serving radiators, embedded in concrete floors are very prone to corrosion and leakage unless protected with tape or run within ducts. Leaking or corroded pipework can be replaced with new pipework surface-run along walls (to minimise damage and need to dig up the floor, the old disconnected pipes can be left buried in situ).
To allow damp floors to dry out naturally, remove carpets and floor coverings. Once exposed it can take several weeks for floors to fully dry out; loose rugs made from natural fibres like wool, cotton or jute are well suited to allow air to circulate.
In old homes, solid floors laid on bare soil need to 'breathe' so any moisture can evaporate. However, smothering them with impermeable floor coverings, such as vinyl, will trap this 'perspiration'. Ideally such covering should be replaced with a natural breathable floor, or quarry tiles bedded in lime mortar should be reinstated.
Cold floors can also attract condensation as warm moist air and steam condenses, particularly in kitchens and bathrooms. To deal with condensation, new extractor fans can help disperse humid air and improve ventilation. A less cold surface covering, such as wood flooring, can be placed over a layer of rigid insulation material to make the surface warmer (although raised floor heights may necessitate adjustments to units and fittings, etc.).
Finally it's worth taking a look at the ground around the house to ensure it is well below floor level. External ground levels should be at least 200mm lower than the indoor floor level, and should slope away from the walls to disperse surface water away from the building.
Chartered surveyor Ian is the author of eight popular Haynes House Manuals and is a director of Rightsurvey.co.uk. He is also in the process of adding a large extension to his home.
Homebuilding & Renovating Newsletter
Get the latest news, reviews and product advice straight to your inbox.
Thank you for signing up to Homebuilding. You will receive a verification email shortly.
There was a problem. Please refresh the page and try again.