Advertisement Feature
Remote Cottage Uses Spray Foam Insulation
By Sponsored Content published
High performance spray foam insulation has been used in the renovation of a 130-year-old cottage on an exposed moor-top site in the Northern Pennines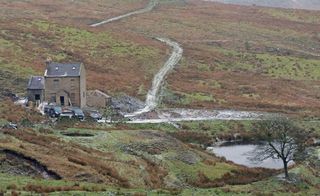 (Image credit: Icynene)
CONTENT SUPPLIED BY ICYNENE
Saddleworth Moor, in the Lancashire Pennines between Huddersfield and Manchester, is one of the most exposed and inhospitable places in the country, with little to stop the westerly gales that blow in from the Atlantic. And at over 1,100ft above sea level, locals say that if snow is forecast, it usually falls there first and is slow to leave.
None of this has stopped local property developer, Jason Reece of Surebuild Construction from buying at auction, Keepers Cottage, a late Victorian Game Keeper's house that's lain empty on the top of the moors for over 30 years, with grand plans to renovate, insulate and upgrade it to 21st century standards.
The Property
"On a clear day, the views over the moors and the Cheshire Plain are simply amazing", explained Jason. "And when the restoration is complete, this will make a fantastic, away-from-it-all home for someone looking for complete peace and solitude."
Keepers Cottage is solidly-built 1,500 square foot property constructed of local stone and is in good structural order. However, to make it habitable, it was in need of a top to bottom upgrade, including all services.
Once the building was made secure and watertight, one of the biggest challenges faced by the builder was insulation to keep out the penetrating wind. "Up here, they describe it as a lazy wind" said Jason. "It prefers to go through you rather than around you!"
The Initial Insulation Plan
The initial plan was to line the internal walls and roof area with rigid board-type insulation, but this was quickly discounted due to its expense and the labour required to install it properly. As well as this, it is virtually impossible to make it fit without gaps, so wind penetration would be inevitable.
To overcome the insulation challenge, Jason turned to Manchester based specialist, Green Horizon Energy Solutions who recommended spray applied insulation as the preferred solution.
Matt Lawford of Green Horizon, said: "In an old, exposed property like Keepers Cottage, making the envelope as airtight as possible is vital. Air leakage accounts for as much as 40% of the heat loss in a building so sealing off all the tiny air gaps and voids that conventional insulation method cannot reach is the name of the game."
Unlike the urethane-based foams of 20 years ago, modern spray foams use water as the blowing agent. The reaction between the chemical components produces CO₂ which causes the foam to expand. As the foam expands the cells burst and the CO₂ is replaced by air.
At Keepers Cottage, the original walls comprised an external leaf of dressed masonry with an internal skin of brickwork, separated by a partially filled cavity. During renovation, an internal frame of timber stud-work was constructed and the insulation was sprayed to a minimum thickness of 100mm between the studs and directly onto the exposed brickwork. A vapour barrier was applied, followed by proprietary plasterboard, creating a wall of approximately 450mm overall thickness.
Applying the Spray Foam Insulation
Green Horizon used the Foamlite LDC 50 system from Icynene, which is an open cell foam that allows the building to breathe naturally, resisting internal condensation. Its ability to close off small structural gaps and service holes, creating a 'sealed box' environment, makes it one of the most efficient and cost-effective means of heat-loss mitigation.
Icynene Foamlite is applied as a two-component mixture that come together at the tip of a trigger-action device, forming a foam that expands 100-fold within seconds of application, searching out and sealing gaps, service holes and hard to reach spaces, virtually eliminating cold bridging and air leakage.
Foamlite has a Global Warming Potential (GWP) of 1 and an Ozone Depletion Potential (ODP) of 0. Furthermore, Icynene does not emit any harmful gasses once cured and is completely inert.
Insulating the Roof and Floor
The roof structure was stripped and re-felted and battened before replacing the original slates. Insulation was then sprayed to a thickness of 125mm between the roofing joists to create a warm roof structure for planned habitable use.
A poured concrete screed over 100mm thick rigid insulation slabs form the new ground floor to the building.
Contact Icynene (opens in new tab) for more information on spray foam insulation.
Homebuilding & Renovating Newsletter
Get the latest news, reviews and product advice straight to your inbox.
Thank you for signing up to Homebuilding. You will receive a verification email shortly.
There was a problem. Please refresh the page and try again.