Advertisement Feature
Low Pitch Roof Considerations for Your Extension
By Sponsored Content published
Higher demand for low pitch roof products has led to greater innovation, but pitched roofs on extensions must be fixed according to building regulations.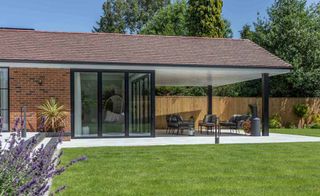 (Image credit: Marley)
CONTENT SUPPLIED BY MARLEY (opens in new tab)
Pitched roofs offer a variety of benefits for extenders, not least because of their aesthetic qualities. They come in all shapes and sizes, enable great versatility and require fewer materials to be used, which lowers build costs.
But finding roof tiles for your extension which match the main roof can become challenging when they need to perform at a lower pitch, due to the position of first floor windows. This has implications for water run-off and weather proofing: the lower the pitch, the greater volume of water collected and discharged on the slope.
If you decide to install at a lower pitch then seek manufacturer advice on alternative tiles, or whether a weatherproof sub roof system is required.
Building Considerations
A key change with regards to pitched roofs and extensions in the UK came in 2019 following an update to Permitted Development Rights. The update meant that homeowners no longer need planning approval for single storey extensions (up to six metres for terraced and semi-detached homes and eight metres for detached properties), but extensions still need to comply with Building Regulations and British Standards.
Therefore, pitched roofs on extensions must be fixed according to building regulation BS 5534. And in some designated areas, such as conservation areas, the homeowner will still need to get planning permission.
Another pertinent consideration when opting for a low pitch roof is ventilation. Normal contour vents can usually only be used down to a pitch of 20°, so tile vents are not always suitable for low pitch installation. Instead a dry fix eaves vent system can be used.
Product Innovation
Higher demand for low pitch products has led to greater innovation. While homebuilders have previously struggled to install a roof below 17.5°, traditional looking tiles now incorporate special features to allow them to perform at much lower pitches.
Most traditional clay plain tiles can only be used down to 35°, or sometimes 30°, but many profiled interlocking clay tiles achieve the traditional clay look as low as 12.5°. This makes them particularly suited to extension projects where the roof pitch is a lot lower than the main property but needs to blend with the original clay tiles.
Moreover, while some pantiles are suitable only for 30°, clay tiles can offer a traditional, older aesthetic look – as opposed to interlocking options.
If you're considering using concrete tiles for your low pitched roof then it's wise to note that building regulation BS 5534 recommends that the minimum pitch for natural slate is 20°. However, certain slate effect tiles can replicate the slate look at a lower pitch for extension work.
If you need to match a traditional look, visit Marley (opens in new tab) for advice on suitable low pitch alternatives and a free fixing specification for your project.
Homebuilding & Renovating Newsletter
Get the latest news, reviews and product advice straight to your inbox.
Thank you for signing up to Homebuilding. You will receive a verification email shortly.
There was a problem. Please refresh the page and try again.