Advertisement Feature
Love Your Home, Protect Your World
By Sponsored Content published
We all want to take pride in our home – however, it's not always easy with typical Scottish weather rattling through the windows and doors, and the heating chugging away from September to April.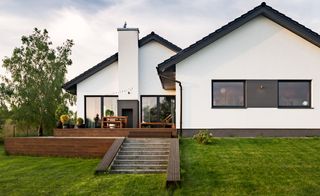 (Image credit: c/o Energy Saving Trust)
CONTENT SUPPLIED BY ENERGY SAVING TRUST (opens in new tab)
Many Scottish homes are inefficient and hard to heat, meaning lots of us put up with cold houses and high energy bills.
Sound a little familiar? Good news: it doesn't have to be this way.
By making energy saving home improvements, you can have a home that keeps you warm on those cold winter nights. A home where the heating bills are manageable, giving you more money in your pocket to spend on the things you love. An efficient home that's as good for the environment as it is for your family's health and wellbeing. All of these things can become a reality and it's easier than you might think.
So, where do you start and how do you know what's right for your home?
First, think about your priorities. Is your boiler on its last legs? Have you got draughts that need sorting out? Maybe you're looking to cut your energy bills and boost your green credentials.
Get the most out of your heating system
Heating and hot water accounts for more than half of the average household energy bill, so upgrading your heating can make a big difference to your pocket as well as making your home feel more comfortable. There are plenty of options out there, from A-rated boilers to renewable heating systems.
Caroline lives in the Scottish Highlands and switched her old storage heaters for a greener and more efficient biomass boiler. She said "Since getting the biomass wood pellet boiler installed, and a wood burning stove in the old part of the building, I've noticed a drop in bills. I can dictate when the heating's on and when it's not, and it's a much cheaper form of heating anyway. So I've got cheaper bills, and I've got a warmer house when I want it."
Keep the heat in
To stop heat and cash going out the window, think about getting secondary or double glazing if you've not already got this. Sealing any gaps around windows, under doors, between floorboards and in unused chimneys can also make a big difference to how warm your home feels – you may even be able to turn your heating down a couple of degrees, which will save you money and have a positive impact on climate change!
Making sure your home is insulated helps keep the heat in, meaning your heating system shouldn't have to work as hard to keep you cosy. There are a number of insulation options depending on your home and budget.
Wall to wall comfort
Starting from the bottom, the vast majority of UK homes could benefit from an insulated floor. You can get this done professionally, but in some cases even just laying down a thick rug over wooden floorboards or a carpet with thick underlay can make your home a lot warmer.
Walls account for a third of heat lost in an uninsulated home. Wall insulation is a bigger investment, but is definitely worth looking into if you're serious about improving the comfort of your home. Most homes built after 1919 have cavity walls, made up of two walls with a gap in between which can be insulated. Older homes built before 1919 are more likely to have solid walls, which can be insulated internally or externally – it makes sense to do this work at the same time as having other building or decorating work done to help keep costs and disruption to a minimum.
Finally, the majority of homes have some loft insulation but many don't have the recommended 270mm depth, so it's worth thinking about topping this up.
Ready to make a start on improving your home?
Get in touch with Home Energy Scotland on 0808 808 2282 to find out more about turning your chilly house into a cosy home which is better for you and for the environment. This free, impartial advice service is funded by the Scottish Government and managed by Energy Saving Trust, offering specialist support and interest-free loans (opens in new tab) for the energy saving home improvements mentioned here and many more!
Terms and conditions and an admin fee apply. Applicants undergo credit and affordability checks, for more information click the link above.
All figures are based on a typical three-bedroom semi-detached gas heated house, with an 84% efficient gas boiler and average gas tariff of 3.63p/kWh and electricity tariff of 14.33p/kWh; correct as of April 2018 and valid for one year.
Homebuilding & Renovating Newsletter
Get the latest news, reviews and product advice straight to your inbox.
Thank you for signing up to Homebuilding. You will receive a verification email shortly.
There was a problem. Please refresh the page and try again.