Advertisement Feature
4 Key Considerations for Designing a Staircase
By Sponsored Content published
There is a lot to consider when it comes to designing the perfect staircase for your home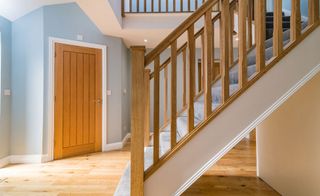 (Image credit: Stairbox)
CONTENT SUPPLIED BY STAIRBOX
Whether you're looking for a new or replacement staircase, you'll need to consider several different aspects, such as style, layout and regulations. Taking the time to consider this purchase could make all the difference to the space and overall finish in your home.
1. Start by Measuring Your Space
Once you've had a look for some inspirational ideas, measure your space.
For the height, you'll need to measure vertically from finished floor to finished floor.
For the width, you should measure your stair opening (stairwell), ensuring you have allowed for plaster finishes (if yet to be applied). Then allow for a little fitting room; 10mm should be sufficient.
2. Think About the Ideal Width of Your Staircase
Start Designing
If you're still a little unsure about your purchase, you can contact technical advisors at StairBox, who will be happy to assist with any queries you have.
The average staircase comes out at 865mm – this is a comfortable width and would feel quite generous when walking up without taking up a massive amount of space. But, the ideal width is really a matter of customer preference.
The ideal width of your staircase (which is the width measured over strings and does not include newel posts) is one of the trickiest decisions to make when designing your flight. This is, in part, due to Document K not having much to say on the matter, although there are a few circumstances in which your ideal width would be dictated by your design and regulations.
Carefully Consider Any Three-tread Winders
Should you be looking to have a three-tread winder in your flight, your staircase would need to have a width over strings of at least 800mm. While you may be able to get away with something a little smaller to comply with UK Regs with adaptations to the design, over 800mm would be best.
Remember the Width Affects the Going
You will need to remember that the width also affects the total going of your flight if you have a turn.
The additional width of the flight increases the total going by the same amount. If you are struggling to fit your staircase into a specific area of your house, it may be that adjusting your width will be the way to get it to fit.
A Larger Flight also has Restrictions
If you are looking for a flight that is over 1m wide then this could present it's own issues.
With open plan flights, it is recommended that you do not exceed 1m in width. Structurally, the treads will be more stable under 1m, and widths exceeding 1m will have the price tag to match.
A three-tread winder may also cause an issue. The larger a winder turn gets, the closer the tread depth will get to the maximum individual allowed size of 300mm. As soon as the flight reaches 1m wide, the regulations also change and winder treads are no longer compliant.
Account for Finger Width
You also need to make sure there is enough room to avoid a user's hand becoming trapped between the balustrade and any wall. You will need to account for this when calculating the dimensions of your staircase. Factoring in 50mm from the outside of the string to your joist should avoid trapped fingers.
3. Configure the Staircase to Your Space
Add turns
You may wish to add a turn or two in your staircase to make the best use of space and achieve the correct flow around the home. Turns such as half, full or quarter landings can be added to your staircase design. Adding three-tread or six-tread winders can really help save on space.
Add balustrade and wall rails
Staircase and landing balustrades are available to purchase with or without a staircase and there are many different styles to choose from. There are a few regulations which dictate where a balustrade is required on a staircase; a lot of these are fairly obvious, however there are a couple of elements to consider when choosing your balustrade:
The height of the balustrade must be between 900mm and 1000mm from the pitch line (nosing to nosing)
On any part of a staircase there can be no gap "through which a 100mm sphere could pass". The thought being that 100mm is about the size of a baby's head. This restriction helps eliminate any potential hazards in the staircase. This rule also holds true for balustrades, and as such the gap between your spindles cannot be any larger than 99mm
If at any point you are 600mm or higher from off the ground you should have a balustrade
If you have a staircase with a width of greater than 1000mm, you would need to have a handrail on both sides. SpaceSaver staircases are a little different in that they always need to have handrails on both sides. This is partially due to the unfamiliar nature of the alternating treads and their steeper angle.
4. Choose Your Style
With a range of materials and balustrade options to choose from, you can achieve a traditional, classic or modern look. Once you find a style you like the look of, try configuring it slightly to suit your budget. Opting for softwood components such as strings and spindles could dramatically reduce the overall cost, while adding touches of oak to handrails will lift the overall look for minimal additional expense.
Homebuilding & Renovating Newsletter
Get the latest news, reviews and product advice straight to your inbox.
Thank you for signing up to Homebuilding. You will receive a verification email shortly.
There was a problem. Please refresh the page and try again.