Advertisement Feature
Is a Roof Lantern Right for My Extension Project?
By Sponsored Content published
When adding an extension to your home, don't forget to consider how you will bring natural light into the new space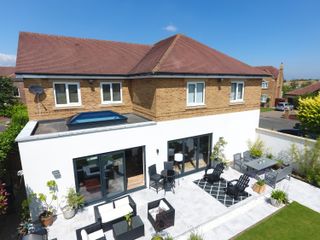 (Image credit: Made for Trade)
Content supplied by Korniche (opens in new tab).
There is a lot to be considered when building an extension; your chosen construction system, whether you opt for something sympathetic or completely contrasting to your property, and how you might need to remodel your existing space to make the most of the new square footage. In addition to that, it is important to consider the provision of natural light.
Building an extension will move windows and external doors further away from the centre of the floorplan, which can make the rooms located there feel small and dark. For that reason it is essential to not only consider how you can maximise the light you can bring in from the side, but also the light you can bring in from above.
Bringing in Light from the Side
Large windows and banks of bifold or sliding doors are popular as ever with home extenders, especially as technological advancements mean that frame sightlines are thinner than ever, allowing for large expanses of uninterrupted glazing. Not only does this maximise light ingress, but it also offers the best views of the garden and provides a real sense of bringing the outside in.
If you are opting for an uber-contemporary design for your extension, then you might want to consider some structural glazing, or even a glass box design that will flood the space with daylight.
Bringing Light in From Above
Bringing in light from above is a great way to ensure that you maximise light ingress throughout the day and, if thoughtfully placed, can help to keep the rooms located deep in the floorplan bathed in natural light.
If you are building a flat roof extension, then a roof lantern, such as the Korniche, is a great option. Not only do they add architectural character to a flat roof structure inside and out, but the slim sightlines and minimalist structure maximise the light flowing into the space below. Installed quickly, roof lantern are available in different configurations and can be designed bespoke for your project.
Frames are often available in a range of RAL colours, but tend to come in black, white and grey as standard. Opting for a dual colour frame means you can choose one colour for the interior facing frame and another one, that maybe complements your home's existing exterior for the outside.
For more information on choosing a roof lantern for your flat roof extension, contact Korniche.
Homebuilding & Renovating Newsletter
Get the latest news, reviews and product advice straight to your inbox.
Thank you for signing up to Homebuilding. You will receive a verification email shortly.
There was a problem. Please refresh the page and try again.