Advertisement Feature
Have You Factored Daylight into Your Extension Project?
By Sponsored Content published
Underestimating the amount of natural light you need to bring into your extension or loft conversion can leave you dissatisfied with the end result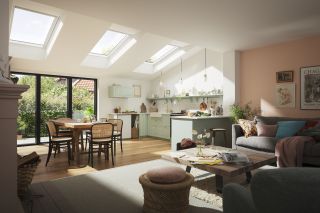 (Image credit: VELUX)
Content supplied by VELUX
When going to the effort and expense of adding more space to your home, you want to be certain that you are going to be happy with the end result. And whether you are adding a single storey extension or converting your loft into a habitable space, daylight plays a crucial role in the success of the project.
By not factoring in efficient daylight right at the start of your project, you run the risk of actually making your home appear darker and smaller, rather than lighter and brighter. Effective daylight will also help to improve your concentration and productivity, and help you sleep better by keeping your body's circadian rhythm in check.
Furthermore, planning for the right number of windows will help you keep your home well ventilated, ensuring a healthy and pleasant indoor environment all year round.
(MORE: Use the VELUX Daylight Calculator (opens in new tab))
How to Bring in Daylight
When adding an extension or converting your loft, there are multiple options for ensuring your new space is flooded with daylight.
Vertical glazing is an obvious solution, but may not be sufficient on its own. In larger extensions, vertical windows will be unable to bring daylight far enough into the floorplan, making your home feel dark and small.
Combining vertical glazing with rooflights ensures you are bringing in light from multiple directions, deep into the floorplan, and can give your new square footage real wow-factor.
How Much Glazing Do I Need?
To ensure you're bringing the right amount of daylight into your new space, you need to ensure that your glazed area of all windows and rooflights is no less than 20% of the floor area of the room.
The new Daylight Calculator (opens in new tab) from VELUX can help you plan the right number and size of roof windows that you should include to make sure your new extension is flooded with natural light. Its team of project advisors can take a look at your plans and help you plan placement of these roof windows.
Homebuilding & Renovating Newsletter
Get the latest news, reviews and product advice straight to your inbox.
Thank you for signing up to Homebuilding. You will receive a verification email shortly.
There was a problem. Please refresh the page and try again.