Green Mortgages: An Introductory Guide
By Emma Lunn published
What are green mortgages and where can you get one? This guide explains why it can pay to be green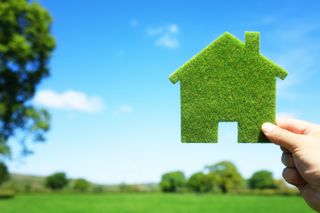 (Image credit: getty images)
The UK government has been encouraging mortgage lenders to develop green mortgage products since publishing its Clean Growth Strategy in 2017.
The idea was to develop cheaper mortgages which take account of the lower lending risk associated with more energy-efficient properties. Essentially, it would pay to be green.
Then in 2019, the government published the Green Finance Strategy, which promoted the adoption of green finance products and services, and pledged to unlock green mortgages for new build homes.
While there isn't a universal definition of a green mortgage, this is generally how it works: lenders offering green mortgages either offer borrowers preferential terms if they buy an energy-efficient home, or if they commit to improving the efficiency of their current home.
There is now a growing number of lenders offering green mortgages – some specialist lenders and a couple of high street brands.
(MORE: Self Build Mortgages)
How Do I Get a Green Mortgage?
Eligibility criteria for a green mortgage varies from lender to lender, but the property's Energy Performance Certificate (EPC) is typically a key factor and will need to be provided.
An EPC tells you how energy efficient a building is and gives the property a number of points between 0-100, which equates to a rating between A (highest) and a G (lowest). Scores of 81 or above qualify for an A or B rating.
The idea is that the EPC provides information about how costly the property will be to heat and light, and what its carbon dioxide emissions are likely to be.
When applying for a green mortgage other documentation required to prove the home's green credentials, in addition to the EPC, will vary between lenders. However, almost universally, the home must be for the owner to live in, not rent out as a buy-to-let.
Some lenders offer green mortgages for:
buying new build homes (Barclays)
funding energy efficient improvements (Saffron Building Society and Nationwide)
self builders and renovators (Ecology Building Society)
equity release (Just Group).
(MORE: Do I need a renovation mortgage?)
Which Lenders Offer Green Mortgages?
Barclays
Barclays entered the green mortgage market in 2018. Its Green Home Mortgage is for buyers purchasing an energy-efficient new build property from one of the bank's partner house builders. These include Barratt, Bloor Homes, Bovis, Countryside Properties, Persimmon, and Taylor Wimpey.
With new builds, housebuilders provide a Predicted Energy Assessment (PEA) before a home is built. This document is sufficient to be eligible for a green mortgage, with the property needing a predicted EPC rating of A or B.
In April 2021, Barclays expanded availability of its Green Home mortgages to include any newly built property purchased directly from a builder or developer with an energy efficiency rating of 81 or higher, or an energy efficiency band A or B.
Saffron Building Society
Saffron Building Society's Retro-Fit Mortgage focuses on making energy-efficient improvements to older properties, rather aiming for the best EPC ratings.
Saffron Building Society senior product manager Laura Bright explains: "It's a standard residential mortgage – for purchase or remortgage – but with an added reward for borrowers who improve the energy efficiency of their home.
"If a customer improves their EPC rating (to a minimum of Band E), within the first six months of their mortgage, we will apply a 0.10% rate reduction for the remainder of the fixed rate period. So simply put, you improve the EPC, we improve the rate."
Nationwide
Nationwide also focuses on improving the energy efficiency of existing homes with its Green Additional Borrowing product launched in March 2020. The further advance product is only available to existing Nationwide mortgage customers.
It offers rate reductions of up to 0.69% on Nationwide's existing two and five-year fixed further advance rates. This means rates start from 1%, with no product fee, with customers able to borrow up to £25,000.
At least half of the money must be used to fund a range of sustainable enhancements, from solar panels and boiler upgrades, to traditional insulation and electric vehicle charging stations.
In April 2021, Nationwide launched the Green Reward - a cashback offer for those purchasing an existing house, flat or new build with a Standard Assessment Procedure (SAP) rating of at least 86+, which is equivalent to an Energy Performance Certificate (EPC) rating of A or a high B.
Those purchasing a home with an SAP rating of 92 or above (EPC-A rated) will benefit from £500 cashback, while those buying an SAP-rated property of 86-91 (high EPC-B rating) will receive £250.
Just Group
Older homeowners looking to release equity should look at Just Group's green lifetime mortgage which launched in July 2020. It offers discounted interest rates to lifetime mortgage customers whose property has an A or B-rated EPC.
Qualifying customers receive a 10bps (basis points) discount on their mortgage rate and a £50 contribution to the cost of the EPC.
Ecology Building Society
Ecology Building Society offers an energy improvements mortgage suitable for self builders, and borrowers carrying out renovations or conversions.
The society's C-Change Discounts enable borrowers to save up to 1.5% off their mortgage rate by improving the energy efficiency of their home.
Qualifying improvements include:
insulation
double or triple glazing
efficient heating systems
solar panels
photovoltaics
wind turbines
ground source heat pumps
biomass heating.
The level of the C-Change discount applied is based on the EPC rating achieved on the self build, renovation or conversion when the work is completed.
For the discount to be applied, the borrower will need to provide evidence of the work done and the property's EPC.
How Do Rates on Green Mortgages Compare?
Matthew Fleming-Duffy, mortgage broker at Cherry Mortgage and Finance, says that only one green mortgage product has ever really been competitive – but it's not at the moment.
"Under the Saffron option, if you were remortgaging your home or buying a home up to 80% of the value of that property, Saffron had a two-year fixed rate at 1.47%. That was a competitive deal in itself, but most importantly if you improve the EPC rating of your home in six months by at least one band and to at least a Band E, then that rate dropped by 0.1%," he explains.
"So, that made that two-year fixed rate 1.37%, which was pretty much the best two-year fixed rate mortgage on the market at 80% loan-to-value. But that product rate has recently increased to 2.17% so it is no longer competitive when compared with other options available in the market."
Homebuilding & Renovating Newsletter
Get the latest news, reviews and product advice straight to your inbox.
Thank you for signing up to Homebuilding. You will receive a verification email shortly.
There was a problem. Please refresh the page and try again.