Advertisement Feature
Designing for Energy Performance
By Sponsored Content published
Having built the first oak frame Passivhaus in the UK, Oakwrights recognises that there are a growing number of self-builders seeking to improve the performance of their build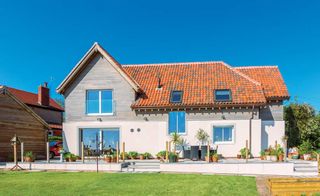 (Image credit: Oakwrights)
Content supplied by Oakwrights (opens in new tab)
As the fastest growing energy performance standard in the world, Passivhaus is an approach which delivers exceptional standards of insulation and airtightness.
The construction methods used achieve much lower U values in comparison to a house that meets standard Building Regulations. The doors and windows are also specified with a limiting U value to balance both heat loss and useful solar gain, and are carefully installed without gaps and draughts that reduce performance.
Benefits to Building a Passivhaus
Working with Oakwrights
When starting the process of designing a Passivhaus, Oakwrights' in-house architectural team can advise and help you evolve your ideas to suit your requirements.
The team can also work with external architects and third party construction experts to develop your house with the added beauty of an oak frame.
Their encapsulation (wall insulation) systems surpass the Passivhaus standard in terms of performance. They can also adapt the encapsulation to meet your individual requirements and ensure your property meets the Passivhaus criteria while still achieving your design brief.
There are many benefits to designing and building a Passivhaus; primarily, the house can use up to 90% less energy compared with one that meets standard Building Regulations, significantly cutting your energy bills. Houses that meet the standards also have a constant supply of filtered, fresh air to maintain a stable temperature all year round. Although realistically in the UK, some sort of heating source will be advisable, very little heat that is generated will escape through the walls, floors and roofs due to the quality of the construction, meaning
When designing to the Passivhaus standard, the building's form factor needs to be considered. The more corners you have in a property, the higher the ratio of internal volume to external wall becomes.
The standard is therefore easier to achieve with simpler house shapes, but you shouldn't let that stop you. If you would like a more complex design, it is achievable but you have to consider compensating in areas such as installing better performing windows and increased levels of insulation.
Cost of Building a Passivhaus
The cost of building a Passivhaus is likely to be slightly more than your average self build, however, in the long-term you will save money through reduced energy bills.
To discuss your oak frame Passivhaus requirements call the Oakwrights (opens in new tab) team on 01432 353353 or email enquiries@oakwrights.co.uk.
Homebuilding & Renovating Newsletter
Get the latest news, reviews and product advice straight to your inbox.
Thank you for signing up to Homebuilding. You will receive a verification email shortly.
There was a problem. Please refresh the page and try again.