Advertisement Feature
4 Design Ideas to Bring More Light into Your Home
By Sponsored Content published
If your home feels dark and small but moving is not an option, then increasing the amount of natural light into the property could be the answer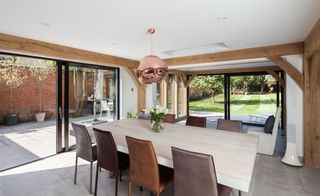 (Image credit: Kloeber)
Content supplied by Kloeber
There are numerous benefits to flooding your home with natural light, from the attributed health benefits of improved mood and concentration, to the interior design benefits of spaces seeming much larger with less reliance on artificial lighting.
If you think your home could benefit from an increased hit of natural light, then take a look at these great design ideas you could encapsulate in your property.
Open Up Your Layout
Some poorly designed homes suffer from a lack of natural light in the centre of the floorplan which can be alleviated by removing some internal walls and opting for an open or broken plan layout.
But do be sure you consult a structural engineer to ensure your home remains structurally sound during and after the removal of internal walls.
Upgrade Your Doors
Adding a bank of floor-to-ceiling, bi-folding or sliding doors (opens in new tab) (pictured top) is a great way to not only bring in loads of natural light, but to also help create a great indoor-outdoor space (adding a real sense of wow-factor to your home).
Depending on the style of your home, a set of French doors (opens in new tab) will also help to counteract a dark room. You could also opt for a new front door that features larger panels of obscured glazing to allow light into your home while maintaining your privacy.
(MORE: Bi-folding doors from Kloeber (opens in new tab))
Improve Your Windows
Making the most of your windows will also help to maximise the natural light coming in to your home.
As well as choosing window frames that not only complement your home's aesthetic but maximise the amount of glass they feature, you could also consider including some fixed glazed (opens in new tab) panels in your design for spaces where you need an injection of natural light, but not necessarily a window that opens.
Internal glazing is also an option in order to borrow light from other rooms without having to commit to a fully open-plan layout.
Introduce Light from Above
Once you have considered bringing in light from the side, you could consider bringing it in from above with a rooflight (opens in new tab) or roof lantern. This option will not only allow you to benefit from the maximum number of daylight hours in a day, but are also great design solutions for locations where privacy is paramount.
For more advice on how you can bring more light into your home, contact Kloeber.
Homebuilding & Renovating Newsletter
Get the latest news, reviews and product advice straight to your inbox.
Thank you for signing up to Homebuilding. You will receive a verification email shortly.
There was a problem. Please refresh the page and try again.