Advertisement Feature
Common Planning FAQs
By Sponsored Content published
Craig Alexander, Chartered Architect at Oakwrights, answers some common planning questions that arise when considering a self-build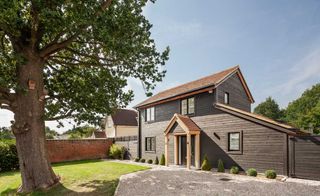 (Image credit: Oakwrights)
CONTENT SUPPLIED BY OAKWRIGHTS
If you're planning on building your own home, we've answered some common planning questions to set you on the right track for a successful application.
Why is Planning Permission Required?
Planning ensures that the appropriateness and potential impact of a development is given due consideration before being built. In the context of a self build, this includes the relationship to settlement boundaries, impact on neighbouring properties, appearance, external materials, as well as issues such as overlooking, parking and impacts on protected species or trees.
It is a separate process to building regulations, which covers a wide range of safety and structural issues.
How Long Does a Decision Take?
An application for one house is expected to take around eight weeks, depending on the local council's workload. However, it is always good to be prepared that your planning application may take longer in some cases.
Does Permission Expire?
Planning permission typically expires three years from the date of approval. It isn't possible to apply to extend the time period; a full application would be required.
It is often better to make a meaningful start on site (subject to pre-commencement conditions) to secure a planning permission. Once started, there is typically no time limit on completing the project.
Can a Decision be Revoked or Appealed?
While technically planning approval can be revoked, it is exceptionally rare. It is more important to build your project in accordance with the approved drawings.
This means, firstly being sure that you are happy with the design before it is submitted to planning and secondly, that technical compliance issues such as head heights and first floor window escape sizes are considered early, to avoid the delay of going back for planning amendments.
If your application is refused, it is possible to take the case to appeal with the planning inspectorate. This can, however, be a lengthy process, so it's often worth taking specialist planning advice if an application is refused.
For more information about securing planning permission for your dream home, contact Oakwrights (opens in new tab).
Homebuilding & Renovating Newsletter
Get the latest news, reviews and product advice straight to your inbox.
Thank you for signing up to Homebuilding. You will receive a verification email shortly.
There was a problem. Please refresh the page and try again.