Advertisement Feature
7 Reasons to Install a Downlight Cover in Your Loft
By Sponsored Content published
There are numerous benefits to installing a downlight cover in your loft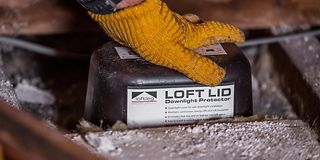 (Image credit: Loftleg)
Downlights are a popular choice for self-builders and extenders, and a firm favourite with lighting designers, who love their minimalist good looks. However:
holes have to be drilled through the ceiling to install downlights, which could make your new home less airtight
if they're poorly installed, downlights can be a fire risk. If you cover downlight fittings with loft insulation, there's a risk they could overheat and start a fire.
One answer is a fire-retardant downlight protector – a plastic 'hood' or cover that sits over the downlighter fittings in the loft. It's a simple but clever measure that brings a whole range of benefits:
1. It maintains the airtightness of the ceiling: the last thing you want in a modern energy-efficient self build or extension is a draughty cold spot where the downlights have been installed.
2. A downlight cover reduces any fire risk caused by downlights overheating when they're covered in loft insulation. The cover sits over the downlight fittings, creating enough space around the lamp fittings to avoid overheating.
3. Downlight covers save money on fuel bills as they allow you to safely insulate all around the downlight and enjoy a comfortably warm house without cold spots.
4. Installing a downlight cover conforms with current Building Regulations that require loft insulation to be continuous.
5. A good downlight cover is tested to all relevant British Standards, so you know you're getting a safe quality product.
6. A downlight cover stops dust and insects migrating from the loft into the rooms below, helping to keep your home clean and hygienic.
7. Plus, they're really easy to install, and one size fits LEDs and halogen bulbs. Simply apply a layer of sealant to the rim of downlight cover and place into position, ready for the insulation to be laid over the top.
To find out more about the Loft Lid downlight cover, which is fire retardant and complies with all relevant Building Regs and British Standards, visit the Loftleg website (opens in new tab) or call 01282 861001.
Homebuilding & Renovating Newsletter
Get the latest news, reviews and product advice straight to your inbox.
Thank you for signing up to Homebuilding. You will receive a verification email shortly.
There was a problem. Please refresh the page and try again.