Advertisement Feature
6 Things All Self Builders Should Know About Bricks
By Sponsored Content published
When it comes to building your own home, the materials you choose need careful consideration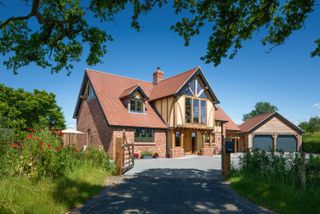 (Image credit: c/o Furness Brick)
Content supplied by Furness Brick (opens in new tab)
When it comes to building houses, bricks are a popular choice. Bricks are particularly suited to traditional designs, but can be incredibly striking on more contemporary schemes. If you are considering building your own home using bricks, then here are six things you need to know before you start.
1) The planners will need to approve your choice of brick
Speak to your designer or get advice from a planning consultant (or your local planning office) on what is likely to be accepted. You should also consider surrounding properties and the local surroundings for ideas on what is permissible - doing your research early on will help avoid any planning disappointment down the line. You should also choose a brick that is sympathetic to your plot for an end result you will love.
2) New bricks can be weathered to give them character
If you want to build a traditional style house, it can help to use weathered bricks to add instant character and authenticity to the property and prevent it from coming across as pastiche. Bricks can also be weathered to match existing bricks, which is especially useful if there are existing outbuildings on your plot that you wish to make use of.
3) You need to consider extra uses for bricks before you place your order
Once you have finalised your house design, you will be able to accurately estimate how many bricks you will need, but before you place your order, consider where else you might wish to use the same bricks around your plot. This could be a boundary wall, a driveway or garage. This will help you to keep your build costs under control and avoid unnecessary haulage charges.
4) Consider the delivery and storage of the bricks on your site
Most bricks will be delivered to site on a lorry so you will need to consider just how easy this will be (if it will be incredibly difficult, make sure that is conveyed to the supplier so that an alternative method can be used). It can be useful to place the bricks at various points around the site to ensure quick and easy access for your builders. Remember time is money.
You will also need to make sure the materials are kept secure and dry while they are not in use. If you are opting for non-standard bricks, make sure you order them in plenty of time as they may take longer to arrive on site - this is especially important if you are planning on acting as your own project manager.
5) A quality control panel should be built on site
Make sure you are happy with the control panel before work begins on the house. This panel will show the bond pattern and joint profile for the build and will ensure uniformity.
6) Work from three or four packs simultaneously
Even though the bricks will be blended at the factory, it is good practice to open numerous packs (three to four is standard) and work from them simultaneously.
For more information about choosing bricks for your self build project, contact Furness Brick (opens in new tab).
Established in 1845, Furness Brick is an independent, family-run brick manufacturer. It specialises in the production of traditional pressed, clamp, handmade facing bricks and pavers. It can manufacture bespoke blends, weathered bricks, non-standard and imperial sizes in a variety of colours and textures, using traditional production methods.
Homebuilding & Renovating Newsletter
Get the latest news, reviews and product advice straight to your inbox.
Thank you for signing up to Homebuilding. You will receive a verification email shortly.
There was a problem. Please refresh the page and try again.