Advertisement Feature
5 Clever Ways to use Vertical Radiators in Your Home
By Sponsored Content published
A vertical radiator is the smart choice for homeowners looking to make the most of their wall space. Take a look at just a handful of the ways they can be used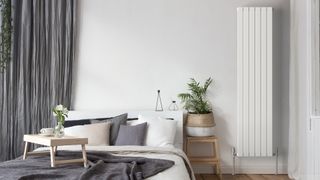 (Image credit: Radiator Outlet)
[Content Provided by Radiator Outlet]
Vertical radiators have grown in popularity in the last few years, but not only for their designer good looks. Yes, they may offer a much more contemporary look for those tired of the same old radiators, but they also offer a versatile alternative to traditional horizontal radiators which may help you make use of your floorplan better.
With that in mind, we're looking at some of the best ways to put modern vertical radiators from Radiator Outlet (opens in new tab) to use in your home to maximise the potential of the space.
1. Add Efficient Space Heating in Small Gaps
When choosing a radiator for your space, you need to ensure that it's powerful enough to heat the space properly - you can use a BTU calculator to do this. However, where you've only got a small area to add in a radiator, such as a hallway for example, you'll find that vertical radiators (opens in new tab) allow you to install much more heat output.
Vertical radiators just offer greater flexibility to your heating mix, meaning that radiators can be used in alcoves, at the side of windows and doors and many more places, without your room being underheated by too small a radiator.
2. Vertical Radiators are an Effective Choice for a Kitchen
Kitchens are one area that you may benefit most from a vertical radiator. In this space, almost everything is wall hung, limiting the space available for a radiator, especially a horizontal one. Leaving room for a vertical radiator in your kitchen design will ensure that you don't lose too much space that could have been dedicated to storage and workspace, while picking a designer radiator ensures your kitchen has a modern, stylish heating source.
3. Choosing Vertical Radiators Vs Heated Towel Rails
Vertical radiators are also suitable for using in a bathroom, however, the more traditionally used radiator in this space is a heated towel rail. Which you choose will depend on your needs - a vertical radiator will likely meet your room's heating requirements more easily, but a towel rail is superior for keeping towels warm and dry. A design like this anthracite towel radiator, which combines the good looks of a modern vertical radiator with the functionality of a towel rail, might be a good compromise.
4. Pick a Style to Match Any Style of Home
Vertical radiators come in a greater variety of styles than ever before, so alongside the stylish designer radiators, you can also find traditional column vertical radiators which might suit some period properties better. Radiator Outlet's range is available in double and triple columns, ensuring you can specify the right output for your space.
5. Choose a Finish to Match Your Interior Design
The other great thing about the choice of modern vertical radiators is the finishes you can choose. White and Anthracite finishes are some of the most popular, but there are also other creative finishes such as Raw Metal for column radiators and clever mirror radiators that also incorporate a mirror in the design, making a perfect spacesaver for a bathroom, bedroom or even a hallway.
Homebuilding & Renovating Newsletter
Get the latest news, reviews and product advice straight to your inbox.
Thank you for signing up to Homebuilding. You will receive a verification email shortly.
There was a problem. Please refresh the page and try again.