Advertisement Feature
3 Ways to Improve / Upgrade a Home's Heating System
By Sponsored Content published
In light of the Heat and Building's Strategy announcement, homeowners are being encouraged to improve the energy-efficiency of their properties. Take a look at some ideas to make your home's heating greener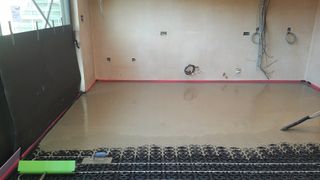 (Image credit: EPIC Insulation)
Content supplied by EPIC Insulation
It was recently revealed that 40% of the UK's carbon emissions comes from our households, a large proportion of which is a result of outdated or inefficient heating systems.
The UK government has targeted reducing carbon emissions by 78% by 2035, compared to 1990 levels, and has committed to reaching Net Zero by 2050. Decarbonising buildings through energy performance improvements and installing low-carbon heating systems will play a big part in achieving these goals. So, if you're considering an extension or renovation project, upgrading the way your home is heated is an invaluable investment.
1. Improve Airtightness and Insulation
You may have come across the term 'fabric first' when self-building or extending a house. Simply an approach that puts reducing a home's heating requirements at the heart of design, the values of fabric first can be applied to both new and old homes alike.
High quality insulation is one of the best ways of reducing carbon emissions attributable to heating our homes, as well as good quality windows and doors — quite literally, keeping the heat inside the house and the cold outside. Without these essential fabric improvements, any efforts to improve a home's heating efficiency will be undermined.
2. Install Underfloor Heating
Often seen as one of the most desirable features of a home improvement scheme, warm-water (hydronic) underfloor heating (UFH) is a fantastic option for new or retrofit heating systems.
Not only is UFH more efficient because it runs at a lower temperature than traditional central heating with radiators, but it also reduces cold spots around the house.
3. Invest in a Heat Pump
For more information on Profix® and Profix® PLUS panels for new build and retrofit projects, go to www.profixpanel.co.uk or speak to one of our nationwide stockists/installers.
From 2025 conventional gas boilers will be banned from being installed into new homes and, while there are other options on the horizon, heat pumps (be they ground source or air source) are currently the government's preferred option due to their great energy efficiency credentials (typically for every unit of energy consumed they are capable of generating three units of energy output).
This future-proofed 'fit-and-forget' system provides a clean, low carbon heating solution. However, when installed alongside a warm-water UFH system, it is critical the two components are considered together to ensure that the heating system as a whole is capable of delivering a sufficient heat output to adequately heat your home.
Homebuilding & Renovating Newsletter
Get the latest news, reviews and product advice straight to your inbox.
Thank you for signing up to Homebuilding. You will receive a verification email shortly.
There was a problem. Please refresh the page and try again.