What Self Builders Need to Know About the Countryside Planning Changes
By Jack Woodfield published
The new planning changes add clarity to the clauses self builders must meet to build in the countryside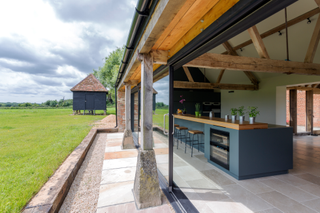 (Image credit: Getty Images)
There was a noteworthy update to the National Planning Policy Framework (NPPF) this month which is particularly important if you're a self builder looking to build in a rural area.
JOIN THE PLANNING HUB
The Planning Hub (opens in new tab) is a new online resource that will help you understand how to get to grips with complex planning rules. Join today for access to easy-to-read guides which will provide you with key information to help you secure planning permission.
The update was to what was formerly Paragraph 79, which offers an exemption from planning permission constraints for self built homes in the countryside that meet specific criteria. Designs have to be of exceptional quality and significantly enhance local areas, but the revision means that self builders no longer have to demonstrate their home is "innovative" as a test within the policy.
(MORE: Ultimate Guide to Self Build)
The revision also moved the clauses for allowing the development of "isolated dwellings" policy from Paragraph 79 to Paragraph 80.
Architects have generally welcomed this amendment because, as Paul Testa, founder of Paul Testa Architecture (opens in new tab) and contributor to Homebuilding & Renovating, says, "innovation was always really difficult to demonstrate".
"Very rarely did self builders have an opportunity to deliver a home that was innovative that was not exceptionally well designed. So this probably makes things easier for self builders because it takes a layer away. Before there was the question of 'what is the innovation?' - now councils aren't looking for you to be innovative, they're just looking for exceptional design," Testa added.
Will the Change Make it Easier for Self Builders?
Richard Hawkes, founder of Hawkes Architecture (opens in new tab) says the removal of "or innovation" is a very welcome change, but acknowledges that the other changes to the NPPF evidence just how important it is for self builders to demonstrate an outstanding design.
The #NPPF has been revised once again and the para 79 "isolated dwellings" policy has once again moved. This time to #paragraph80 (e)The new wording includes a very welcome change in that there is now no longer a need to demonstrate "innovative" as a test within the policy. pic.twitter.com/Ypw3wyEDY8July 21, 2021
The revision makes beauty a central theme of the NPPF, and sets out the expectation for local authorities to approve practical, sustainable designs while rejecting poor-quality designs.
"In the new NPPF there's much more of a focus on quality of design, and beauty," says Hawkes. "So while the government has removed 'or innovation', it's yet to be seen how councils will deal with the change, and how they push for quality of design. I suspect what we'll see is a further increase in the number of Para 80 schemes that go before design panels."
To help self builders increase their chances of planning success, Hawkes has this recommendation: "The tests of the policy are clear that you need to consider the characteristics of a local area, so the first thing you need to do is go out and find out what they are. And how will your design enhance the immediate setting? This will help to elevate your application."
Testa added: "Your chances of planning success might depend on how a local authority will interpret it, but I don't think a lot of local authorities will change their stance on Para 80. It still requires a high standard of residential architecture anyway locally, and that's always been the case."
Jack has worked in journalism for 11 years and is the News Editor for Homebuilding & Renovating, a role he has had since 2019. He strives to break the most relevant and beneficial stories for self builders, extenders and renovators, including the latest news on the construction materials shortage and hydrogen heating. In 2021 he appeared on BBC's The World at One to discuss the government's planning reforms.
He enjoys testing new tools and gadgets, and having bought his first home in 2013, he has renovated every room and recently finished a garden renovation.
Homebuilding & Renovating Newsletter
Get the latest news, reviews and product advice straight to your inbox.
Thank you for signing up to Homebuilding. You will receive a verification email shortly.
There was a problem. Please refresh the page and try again.