This project home on a large plot is only £100,000 — but comes with a catch
The Shropshire house has a guide price of £100,000, far below to average for the areas average which is over £430,000, but for very good reason...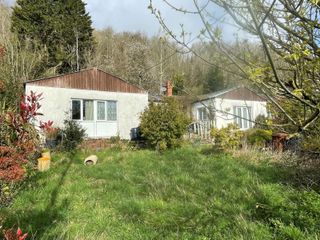 (Image credit: SWNS)
A four-bedroom village bungalow with a front and back garden for just £100,000 sounds like a bargain considering the state of the current UK property market.
The renovation property in Plant, Shropshire, is a staggering £180,000 cheaper than the average UK house price and may well be of interest to anyone thinking of renovating a house.
But once take a look inside, the reason for the low price becomes painfully apparent.
Every room is piled high with rotting rubbish
Every room in the house is piled high with rotting rubbish, in many cases in columns that almost reach the ceilings.
The kitchen floor has disappeared under a sea of food packets, filthy cutlery, cookware, and appliances, while dirty plastics bags dangle from hooks.
The lounge is little better, with peeling paint, a single rotting leather armchair, and plastic boxes filled with paper and other rubbish. A bedroom is scattered with clothes and stained bedsheets and has a TV discarded on the floor.
Image 1 of 3
But home is on large plot in desirable location
If you're willing to put the skip company on speed-dial and pull on the marigolds, the detached property has "fantastic potential" and is £180,000 cheaper than the average UK house price.
Estate agents Town and Country described the property as being of "non-standard construction," but does highlight the desirable location and 0.25 acres of land.
The property has a gated driveway, a hallway, lounge, kitchen, bathroom and shower room, as well as four bedrooms.
Image 1 of 4
Guide price could be a bargain for new owners
The guide price is £100,000, a far cry from the average price of properties in Plant at £431,917, according to RightMove.
The listing states: "Town and Country Property Auctions are pleased to offer this detached four bedroom bungalow of non-standard construction set on a large plot of approx. 0.25 acre and offering fantastic potential for development.
"Set in the heart of the pretty village of Pant offering all amenities."
Get the Homebuilding & Renovating Newsletter
Bring your dream home to life with expert advice, how-to guides and design inspiration, direct to your inbox.
Sam is based in Coventry and has been a news reporter for nearly 20 years. His work has featured in the Mirror, The Sun, MailOnline, the Independent, and news outlets throughout the world. As a copywriter, he has written for clients as diverse as Saint-Gobain, Michelin, Halfords Autocentre, Great British Heating, and Irwin Industrial Tools. During the pandemic, he converted a van into a mini-camper and is currently planning to convert his shed into an office and Star Wars shrine.