The HERU We Need: Innovative Hybrid Boiler Turns Waste into Heat
By David Hilton published
A groundbreaking domestic hybrid boiler that can create energy from waste is being studied in technical field trials in the UK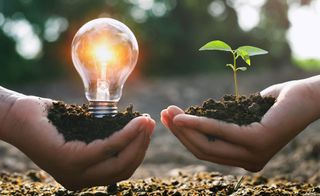 (Image credit: Getty Images)
The Home Energy Recovery Unit (HERU) is a hybrid boiler marketed as a world-first solution, which could become a must-have for family homes.
HERU is a domestic-scale product that enables us to turn the waste products we bring into our homes, including paper, card, packaging, plastic, garden waste and leftover food, into energy to heat our homes. In fact, anything from coffee cups to nappies (but not metals or glass as they require higher temperatures to break down) can be used to generate energy.
How Does HERU Work?
The process is no more difficult to operate than any white goods in the home. HERU simply requires a water supply, a standard 32A cooker socket, and a sewer connection.
HERU is synchronised with a gas or oil boiler (turning it into a hybrid heating system) meaning that that the central heating system can run via HERU, or revert back to oil or gas as and when needed. The process uses a heat treatment to break the materials down and produces an average of 2.5 times the amount of energy used to run it.
Not only could HERU lower the need for waste to be collected, it could also lower the overall CO2 emissions of our homes.
With regards to size, HERU takes up no more space than a dishwasher or washing machine.
When Will HERU be Released?
HERU is currently going through technical field trials in the UK before it is brought to the mass market. The manufacturers expect to have the commercial model in production in 2021.
Nik Spencer, inventor and founder of HERU, told Homebuilding & Renovating: "The HERU team and our partners have now exceeded 10,000 running hours on the technical field trials. As the trials are operating in kitchen, restaurant and social housing environments, and in line with government guidance over lockdown, we and our partners naturally took the decision to pause technical trials in these settings. These will resume as soon as guidance allows.
"In the meantime, we've been working on the new software for the commercial HERU – which is very nearly complete. The new software allows the HERU to self-learn its environment and the resources being processed and adapt accordingly to make the process even more efficient."
Earlier this year, HERU announced a partnership with Siemens to support the production phase of the system.
Boiler Innovations
Reinventing the way our boilers work could be a key method of decarbonising heating and hot water in the UK, and manufacturers are making notable progress in improving the efficiency of our boilers.
Worcester Bosch has unveiled a new hydrogen gas boiler prototype this year which can run on 100% hydrogen gas. And because it also runs effectively on natural gas, the prospective transference to hydrogen gas in the future will be easy for those with a 'hydrogen-ready' Bosch boiler, which can convert to hydrogen without the need for an entirely new heating system.
Additionally, the first pilot project in the UK to inject zero carbon hydrogen into a gas network to heat homes became fully operational in Keele earlier this year.
David is a renewables and ventilation installer, with over 35 years experience, and is a long-standing contributor to Homebuilding and Renovating magazine. He is a member of the Gas Safe Register, has a Masters degree in Sustainable Architecture, and is an authority in sustainable building and energy efficiency, with extensive knowledge in building fabrics, heat recovery ventilation, renewables, and also conventional heating systems. He is also a speaker at the Homebuilding & Renovating Show.
Passionate about healthy, efficient homes, he is director of Heat and Energy Ltd. He works with architects, builders, self builders and renovators, and designs and project manages the installation of ventilation and heating systems to achieve the most energy efficient and cost effective outcome for every home.
Homebuilding & Renovating Newsletter
Get the latest news, reviews and product advice straight to your inbox.
Thank you for signing up to Homebuilding. You will receive a verification email shortly.
There was a problem. Please refresh the page and try again.