Heat pump price war as heat pump goes on sale for SAME price as gas boiler
Octopus Energy is offering a heat pump plus installation for as little as £2,500 — the cheapest rate we've seen so far. Here's how to get one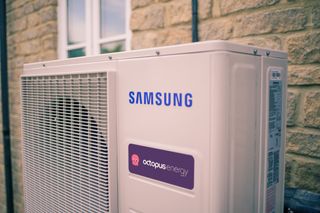 (Image credit: Octopus Energy)
Octopus Energy has launched a new heat pump deal that could cost homeowners just £2,500 to buy and install – the same price as a new boiler.
The renewable energy specialist says it wants to make the eco-friendly home heating technology more affordable and comes hot on the heels of other energy giants also offering up air source heat pumps at cut prices. Recently, British Gas said it would install a heat pump for only £2,999 (around £5,000 plus the purchase price) — making putting in the technology a realistic prospect for many homeowners who were previously priced out.
The wider adoption of heat pumps is now looking more likely across the UK, with suppliers driving down prices to entice householders who are becoming more aware of the technology's potential. Here's everything you need to know about Octopus Energy's heat pump deal.
What is a heat pump and what do they usually cost?
Heat pumps move heat from one place to another. They use a compressor and a circulating structure of liquid or gas refrigerant to extract heat from outside sources and pump it indoors.
There are two different types – air source heat pumps (ASHPs) absorb heat from the outside air, while ground source heat pumps (GSHPs) use pipes buried in the garden to extract heat from the ground.
They can lower fuel bills, reduce home carbon emissions, and the no fuel delivery is needed – potentially handy for remote properties. The government has been so impressed with the potential of the technology that it has ring-fenced £450 million of funding for a Boiler Upgrade Scheme to give homeowners £5,000 or £6,000 towards buying a heat pump for their home.
Installation has still been expensive, and a typical system can cost £8,000 to £18,000. However, recently British Gas cut their installation price to £2,999, signalling the start of costs for this now coming down.
What is the new heat pump deal from Octopus Energy?
The new heat pump deal from Octopus Energy is available already, offering a heat pump plus standard installation for as little as £2,500 using funding from the Boiler Upgrade Scheme. For a typical three-bedroom home however the size of heat pump needed would probably realistically bring that price up to £3,000.
To sign up you don't need to be an Octopus Energy customer and you can do it through their website here, which also offers up a survey to see if your home is suitable.
According to Octopus Energy, the price includes:
Consultation & home survey
An air source heat pump (up to 7kW) from a" leading brand", installed on a ground level external wall
A hot water cylinder (Up to 200L) in the place of your existing one
Copper pipe (Up to 12m) and electrical cabling (up to 15m) connected to your existing plumbing and fusebox
Up to 9 days of engineer time to install your system
System flush, chemicals and magnetic filter to keep your system running smoothly
5 year warranty on parts and labour
Octopus CEO Greg Jackson, said they eventually hope to bring down that price even further.
"It takes time to scale, but as more and more heat pumps roll out of our warehouses, prices will drop further, so soon we won't need subsidies at all," he explained.
How is Octopus able to sell heat pumps so cheap?
The Octopus website says the company is able keep costs lower than other suppliers so they can pass savings on to the customer.
They claim never to have made a profit and say they shouldered more than £150 million to give customers the lowest variable tariff in the UK during the energy crisis.
The spokesperson added that Octopus invests heavily in the rollout of air source heat pumps and built a £10m Heat Pump R&D and Training Centre in Slough in 2021 to find ways to reduce the cost of installing heat pumps.
"We've been honing in on making the installation process as efficient as possible," he said.
The company is focusing on 2/3/4 bed detached, semi-detached, and large terraced homes from the 1930s to 1990s – around 40% of the UK's housing stock – that are heat pump-ready. This unlocks efficiencies in the installation process.
He added: "On top of this, we're reducing the cost of the hardware. We bought heat pump manufacturer RED last year who are working hard on bringing the hardware costs down.
"They are currently developing a new heat pump design that will cost around £1,500 to build (with the aim of further reducing the hardware costs to £1,000 soon). It will get launched in the second half of this year."
Get the Homebuilding & Renovating Newsletter
Bring your dream home to life with expert advice, how-to guides and design inspiration, direct to your inbox.
Sam is based in Coventry and has been a news reporter for nearly 20 years. His work has featured in the Mirror, The Sun, MailOnline, the Independent, and news outlets throughout the world. As a copywriter, he has written for clients as diverse as Saint-Gobain, Michelin, Halfords Autocentre, Great British Heating, and Irwin Industrial Tools. During the pandemic, he converted a van into a mini-camper and is currently planning to convert his shed into an office and Star Wars shrine.