Average Self Builder Spends £270k to Build Their Own Home
It is a question on many a self builder's mind, and a recent survey and report has delivered some noteworthy findings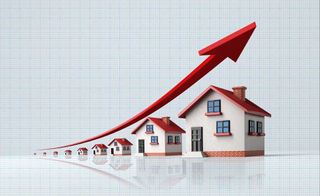 (Image credit: iStock)
The primary feasibility factor when it comes to someone choosing to self build is cost. And for first-time self builders it can be especially difficult to predict even a ballpark build cost figure.
To better understand the self and custom build market, Homebuilding & Renovating commissioned and produced the Self & Custom Build Market Report following a comprehensive consumer survey of 500 self builders who had either just completed or were about to complete their project.
The Results (for a Typical Self Build Home):
the median build spend was £270,000
the median plot cost was £190,000
the median market value of home £500,000
there is huge variation in build cost range from £300/m² to over £5,000/m²
As one can imagine, the scope for self build homes in terms of design specification and size can vary wildly, so we might and should expect a vast spread of budgets.
The report states that build spend for half of all projects in the survey ranged from £190,000 to £350,000, while half of the plots cost between £100,000 and £275,000.
Build costs for just over half of self builders ranged between £900 and £1,500/m², while the market value of the homes for the middle half was estimated to be between £400,000 and £750,000.
What Affects the Findings?
Location: land prices and labour costs will vary depending on where in the country our surveyed self builders chose to build. Additionally, the decision of some local authorities to ask self builders for Section 106 or Community Infrastructure Levy contributions can add significant variation in the overall costs and may not be accounted for
Involvement: People are unlikely to cost their own labour or that of friends and family
Fees: There will be transaction costs missing and the cost of various other fees for design
Land costs: The land may have been acquired at market value. It may have been gifted. It may have come with strings attached
These figures paint a reasonable picture of the typical costs of buying the land and paying for the labour and materials that go into creating the home.
Get the Homebuilding & Renovating Newsletter
Bring your dream home to life with expert advice, how-to guides and design inspiration, direct to your inbox.
Sarah is a journalist, editor and the former Web Editor of homebuilding.co.uk. She began her career more than a decade ago, working on the editorial team of Public Sector Building magazine, before joining the wider Homebuilding & Renovating team as Social Media Editor in 2012. Since purchasing her first house in 2015, Sarah has been adding to the ever-increasing list of home improvements she needs to make; including extending over the garage, resurfacing the driveway, replacing existing flooring and revamping the kitchen. Fortunately, her time with Homebuilding means she is not short on design inspiration or top tips to tackle or project manage these tasks herself.