A 10th of smart meters 'are faulty' — how to tell if yours is working properly
A faulty meter can lead to unexpectedly high bills. Here we look at how many are estimated to be faulty across the UK and how to check yours is working properly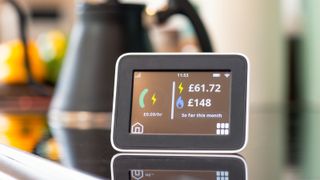 (Image credit: Getty Images)
One in ten smart meters are not working as intended, according to the latest government figures, with nearly three million estimated as being faulty as of March this year.
As many as one in three smart meter customers reported problems such as no automatic readings, inaccurate bills, and the display failing to show any information.
Smart meters are often put forward as one of the most common energy saving tips, with the government pushing to see all homes and small businesses using them to help achieve net zero targets. According to the latest data, 57% – more than 32 million – of all meters in Great Britain are now smart with government targets in February 2023, hoping to increase that to 80% of homes and 73% of small businesses by the end of 2025.
Here we take a look at how many smart meters are estimated to be faulty as well as how to check whether yours is working properly.
What are smart meters?
Smart meters remove the need to tell your energy supplier what your meter reading is for your bill. They also remove the need for the supplier to generate "estimates" when a meter reading has not been supplied.
This is because smart meters automatically feed this information to the supplier as well as allowing the customer to read their energy usage directly on the device. According to gov.uk, smart meters can feed this information to the energy supplier as often as every half hour.
'Three million' faulty smart meters exist in Britain
The National Audit Office (NAO) recently launched a report on the rollout of smart meter's progress. And not only did it find that progress was slower than planned, but also many of those already installed were not working properly.
The difficulties detailed in the NAO report included:
Smart meters effectively being "indistinguishable" from traditional meters due to failing to send energy use information to suppliers
As many as 500,000 first-generation smart meters losing their smart functionality when switching to a new supplier
"Other technical issues" such as no automatic readings, inaccurate bills and the smart meter failing to show any information. This was as many as 37% of smart meter customers asked - one in three smart meter customers
The report also warned that there was a lack of smart meter installers.
Gareth Davies, the head of the NAO, said: "DESNZ must now work with suppliers to get the programme on track, for the benefit of millions of consumers and small businesses and government's wider environmental goals."
Homeowners may be overpaying their energy bills
By incorrectly collecting data about a household's energy usage, faulty meters can mean homeowners pay more than usual or receive unexpected bills.
This can be extremely financially punitive in the face of the energy price rises UK households have been hit with.
And remember, householders can ease the impact of heating bills if they are eligible for the Warm Home Discount Scheme, which reopens in October 2023.
How to check your smart meter isn't faulty
Citizens Advice has an in-depth guide on finding out if your smart meter is working and what to do if it isn't.
Your supplier is responsible for making sure your meter works properly. Click here for more on energy company obligation.
If you're renting and your landlord pays the energy bills, tell them you think the meter might be faulty. They will be responsible for contacting the energy supplier and sorting out the issue.
A common fault if you have a prepayment meter is the screen may go blank or show a message such as 'error', 'call help' or 'battery'. Tell your supplier straight away or you could be left with no energy.
If you have a credit meter, you can check if its faulty by switching off all the appliances in your home including any pilot lights and checking if the numbers on the meter's display are still moving.
If the meter stops, turn on one appliance at a time and check the meter. If the meter starts to move very quickly, the appliance could be faulty.
If the graphs on your online energy provider account aren't showing your usage, it may be that meter consent wasn't set-up when the smart meter appointment was booked.
A spokesman for SSE said: "This could also be a result of a non-communicating smart meter. Your smart meter uses something called a wide area network (WAN) to send data like your meter readings to us.
"It's the same network that your smart phone uses. If it's not working, then your smart meter won't send readings and your online account will have no data to display."
Get the Homebuilding & Renovating Newsletter
Bring your dream home to life with expert advice, how-to guides and design inspiration, direct to your inbox.
Sam is based in Coventry and has been a news reporter for nearly 20 years. His work has featured in the Mirror, The Sun, MailOnline, the Independent, and news outlets throughout the world. As a copywriter, he has written for clients as diverse as Saint-Gobain, Michelin, Halfords Autocentre, Great British Heating, and Irwin Industrial Tools. During the pandemic, he converted a van into a mini-camper and is currently planning to convert his shed into an office and Star Wars shrine.