Advertisement Feature
7 Things to Know Before You Apply for the Green Homes Grant
By Sponsored Content published
Planning ahead can help you make the most of your Green Homes Grant application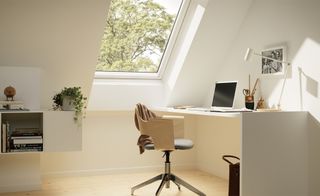 (Image credit: Saint-Gobain)
Content supplied by Saint-Gobain UK (opens in new tab)
The Green Homes Grant provides homeowners with funding to make energy efficiency improvements, and could help you save on your energy bills.
Having launched in September 2020, the government is aiming to upgrade 600,000 homes through the scheme. Eligible improvements include heat pumps and new insulation.
You can go onto the Simple Energy Advice (SEA) service and enter your postcode to begin your application, but before you do, here are seven things you need to know.
1. How much funding are you eligible for?
Most homeowners will be eligible to apply for vouchers up to £5,000, whereby the government will provide two-thirds of the cost of improvements and you, the homeowner, will pay the rest.
But low-income households are eligible for up to £10,000 and do not have to contribute anything towards the cost. You can find out if you're eligible for this funding at www.gov.uk/check-eligible-green-homes-grant
2. Eligible improvements are divided into two categories
The two categories of eligible home improvements are primary measures (insulation and low-carbon heating), and secondary measures (which include glazing, draught proofing and smart heating controls).
Primary measures are defined as the home improvements which make the biggest difference to your home's energy efficiency.
3. You can't pick and choose your improvements
You need to install at least one primary measure before you can apply for a secondary measure.
If you're only looking to upgrade your glazing (for example) on the grant, you won't be able to do so unless you first apply for new insulation or a low-carbon heating system - both primary measures.
4. You can't get a new gas boiler installed
New gas boilers are not covered on the Green Homes Grant, with 2025 earmarked as the year when gas boilers will be banned from new-build homes.
And while solar thermal panels are included on the grant, solar photovoltaic panels are not covered either.
5. It's recommended to find multiple quotes from installers
Once you've found out if you're eligible to apply, the next stage is to find tradespeople to undertake the work. And to ensure you get the best value for your money, it is recommended (although not essential) to obtain at least three quotes.
6. There is a contribution cap on secondary measures
The contribution on a secondary measure will be capped at the same amount provided in relation to the primary measures.
For example, if you were to claim £1,500 for new insulation (a primary measure), you will then be eligible for a maximum of £1,500 for a secondary measure, such as double glazing.
However, if you were to claim £5,000 on a primary measure, and you were eligible for the £5,000 contribution, then you would have no funding contribution left for a secondary measure.
7. The vouchers have a time limit
Once your application has been accepted, and you've received your voucher, it is valid for three months from the date it is issued, or until 31 March 2022, whichever is earlier.
For example, if your voucher is approved in April 2021, you will have until July 2021 to ensure that the work is completed.
Navigate the Green Homes Grant
Saint-Gobain has launched a guide to help homeowners navigate the Green Homes Grant Scheme and understand the energy efficient home improvements available.
Find out more about the scheme in Saint-Gobain's Homeowner Guide to the Green Homes Grant (opens in new tab).
Homebuilding & Renovating Newsletter
Get the latest news, reviews and product advice straight to your inbox.
Thank you for signing up to Homebuilding. You will receive a verification email shortly.
There was a problem. Please refresh the page and try again.