Advertisement Feature
5 Eco-Friendly Ways to Dispose of Building Waste Without Leaving Your Home
By Sponsored Content published
Being creative with your building waste can have benefits for homeowners as well as for the environment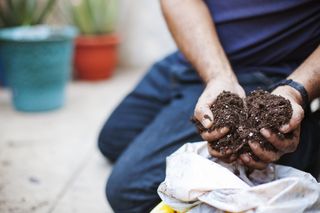 (Image credit: Getty Images)
Content supplied by HIPPO (opens in new tab)
Self builders and renovators in the midst of projects are understandably keen to dispose of building waste, but traditional disposal methods such as travelling to the tip can be problematic. Not only is construction waste such as bricks and cement often difficult to dispose of due to its weight, but the quantities involved can make it difficult to transport.
Thankfully there are several environmentally-friendly ways of removing building waste without leaving home. Being creative with surplus building materials can also help you save money by maximising the life of materials.
These are some of the best ways to dispose of your building waste which you can do at home, which also benefit the environment.
1. Buy a skip bag
If you have a sizeable amount of building waste then skip bag services are ideal, offering bags of varying sizes. They will deliver a skip bag to your house and collect it from your driveway once it's full. Look out for bags which are 100% recyclable, such as HIPPOBAGs.
2. Recycling
Materials such as packaging, plastic, glass and cardboard are standard recyclables. Materials like these can often be recycled through your local council recycling bins, depending on quantities.
3. Reusing + repurposing
Several materials can be reused and repurposed, which can be handy for future DIY and home improvement projects. For example, you could:
Use whole bricks and blocks elsewhere – they could potentially be used to create an outdoor barbeque, raised paving or garden path
Use 'clean' crushed and broken materials such as concrete slabs, rubble and ceramics as hardcore for landscaping purposes (hardcore essentially refers to a gravelly mix that can be used to create a level base for heavy load-bearing surfaces). You can also keep clean hardcore for use beneath patios
Use any clean wood in a log burner, and use offcuts or shavings to make a bird table or another garden ornament.
4. Try composting
Most garden waste and much kitchen waste can be composted - which is the breakdown of organic materials by organisms that convert it into an earth-like mass - which can then be used as a soil conditioner.
If you aren't able to compost in your home, some green waste management companies may be able to collect your green waste and compost it at their own site.
5. Make the most of your space
Many of us are probably guilty of not making the most of the space in our rubbish bins. Make sure you break down as many items as possible, and aim to use every square centimetre of space you have.
Homebuilding & Renovating Newsletter
Get the latest news, reviews and product advice straight to your inbox.
Thank you for signing up to Homebuilding. You will receive a verification email shortly.
There was a problem. Please refresh the page and try again.