Advertisement Feature
5 Ways to Add Some Luxury to Your Bathroom
By Sponsored Content published
Looking to create a wow-factor bathroom in your home? Whether you are hoping to channel a boutique hotel or invoke a spa-like feel, follow these tips for adding some luxury to your bathing space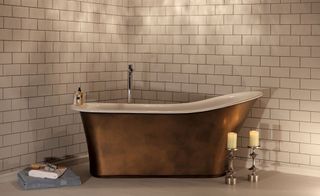 (Image credit: Albion Bath Company)
CONTENT SUPPLIED BY ALBION BATH COMPANY
When it comes to revamping the bathroom, many homeowners opt to add some more sumptuous touches to the room, not only to create a stylish space but also to reap the rewards of embracing a little more luxury.
Follow these five tips to combine both luxury and classic elegance in your bathroom.
Go for a Freestanding Bathtub
Nothing says luxury like a soak in a statement bathtub. Whether its a roll-top or claw-foot option, choose a strong and durable material for a decadent feel (some materials will even act as insulators, keeping your water warmer for longer).
A slipper bath (with a gentle upsweep to one end) will add timeless elegance to your bathroom, while a shorter, deeper tub is a great solution for those wanting a luxury look in a more compact space.
Some bathtubs are even available with burnished exteriors (often gold, iron or bronze) which would add a real sense of wow-factor to the bathroom.
Choose the Right Shower
If showers are more your thing, then a walk-in shower enclosure is a great choice. Clean and simple in design, yet uber-stylish, combine your walk-in enclosure with a rainfall shower head for the ultimate showering experience.
If space is at a premium, then you can still combine luxury bathing with practical showering functionality with an over-bath shower. Choose an option with an oval rail and luxurious shower curtains to invoke a sense of classic elegance.
The Right Colour Scheme
Luxury and relaxation go hand in hand in the bathroom, and you choice of colour scheme can make or break the space. Earthy neutral tones are subtle and timeless, while shades of navy or grey provide great alternatives. If you're after something bolder, then a monochrome scheme is a great option and you can add pops of bright colour with your towels and accessories.
Dual Basins
Give your bathroom some panache by opting for two basins and enjoy the luxury of having your own dedicated basin (enjoy it even more if your partner is not quite as tidy as you are). To keep bathroom clutter under control, you could also go for a basin design with additional storage to allow you to keep all toiletries hidden away.
Heating
Ineffective heating will definitely put a dampener on your bathing experience. While underfloor heating is possible as a retrofit option, some homeowners prefer the traditional elegance of a heated towel rail.
For more ideas on how to add traditional elegance to your bathroom, contact The Albion Bath Company (opens in new tab) today.
Homebuilding & Renovating Newsletter
Get the latest news, reviews and product advice straight to your inbox.
Thank you for signing up to Homebuilding. You will receive a verification email shortly.
There was a problem. Please refresh the page and try again.