Advertisement Feature
Top Tips for Repairing and Reinstating External Railings
By Sponsored Content published
From planning permission to restoring a home's original appearance, use this renovator's guide to repair or reinstate a metal railing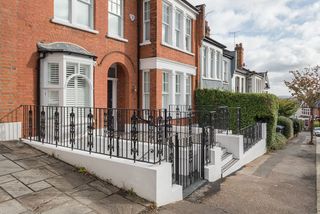 (Image credit: Peter Savage, British Spirals & Castings)
Content supplied by British Spirals & Castings
External railings, gates and other metalwork can add character and security to your home, and repairing or reinstating railings can be a great option for renovators to show off the beauty of the metal.
Many wrought or cast iron railings were removed in the 1940s to support the war effort, while other railings on period homes have become damaged over time. But it is possible to restore these railings and return your home to its original appearance.
Read on to learn everything you need to know to repair and reinstating external railings, including the planning changes you could face, as well as how you can research your railing's original design.
Do You Need Planning Permission?
PLANNING TIP
If in doubt, it is always best to get in touch with your local planning office or a specialist company. British Spirals & Castings has a vast amount of experience designing and manufacturing railings to meet exacting planning requirements for listed or conservation properties and can help to liaise with planning authorities.
As with any significant change to your home's exterior, it's important to ensure if any planning restrictions exist.
Restoring a railing - typically you won't need planning permission to restore an existing railing providing you don't increase its height. However you may require approval if you live in a conservation area or if your home is listed or adjoins a listed building.
Installing a railing - usually you'll be able to fit railings without planning permission providing they're no taller than 1m - just make sure to discuss it with your neighbours first. The same caveat as above applies regarding homes within a conservation zone, or those which are listed or adjoin a listed building.
How to Repair an Existing Railing
You can protect your rail against dust and deterioration with regular maintenance and repainting. Keep a watchful eye for signs of wear and tear including moisture and dirt, and damaged paintwork.
However, some problems will require more immediate attention, such as the fracturing of cast iron or the distortion of wrought iron, and while savvy renovators may be able to fix these problems themselves, they can be complex.
This is why specialist firms can be supportive, not least because repairing railings requires considerable craftsmanship, but because they can assist if you need to identify a railing part, such as the finial/railing head or spindle, which meets the original design.
Some specialist companies can also provide new materials, such as pieces of cast iron, based on historic patterns, allowing you to replace old for new.
How to Reinstate a Railing
You can tell if an original railing has been fully removed through metal stubs on the top of the railings. And if you want to reinstate the railing then a good starting point is to identify the age of your property.
Many railings in Victorian, Edwardian and Georgian times were manufactured by local foundries, and if you want to develop a replacement that is faithful to what would have originally been in place, then this may require a little detective work.
Start by looking for sockets in the plinths or fixing holes in the way, as this surviving evidence of the original railings can help you ascertain the thickness of the original spindles and the overall dimensions of the railings. You can also photograph any railings from similar properties, or search for archive photography from your area.
Of course, a simpler way can be to enlist a bespoke manufacturer to help with the process, which should be able to identify if a pattern for the design is still available (or to alternatively create new ones), and to assist with how, if necessary, to meet planning requirements.
Homebuilding & Renovating Newsletter
Get the latest news, reviews and product advice straight to your inbox.
Thank you for signing up to Homebuilding. You will receive a verification email shortly.
There was a problem. Please refresh the page and try again.