Advertisement Feature
The Importance of Securing the Right Site Insurance for a Renovation or Extension Project
By Sponsored Content published
Ensuring you are covered during an extensive home improvement project is essential for your peace of mind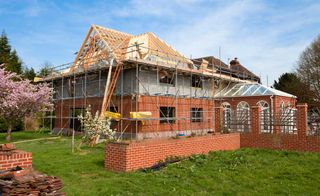 (Image credit: Self Build Zone)
CONTENT SUPPLIED BY SELF BUILD ZONE
Compared to, say, choosing a building system, insurance is probably one of the dullest products out there and one that certainly isn't going to be initially high on your radar. However, it's only when you have been targeted by an arsonist, or been on the end of a serious theft that you can truly appreciate just how important site insurance can be.
Am I Not Covered by a Standard Home Insurance Policy?
Did you know that your normal house insurance doesn't normally cover your property if you are altering it through an Extension, Renovation or Conversion. Many homeowners assume that their insurance policy will continue to provide cover if they carry out a major home improvement project, but often this isn't the case as a lot of policies have an exclusion – meaning you aren't protected if you alter the structure of your building.
Adding an extension can be the biggest financial investment you'll make after purchasing your home, so why risk it all by not having the right insurance in place? Ask yourself if you could afford to rebuild your home and extension out of your own pocket if something went wrong.
What Does Site Insurance Do?
Most site insurance provides all the key elements of risk control in one straightforward package. It should be taken out from the moment you exchange contracts on your plot, where you have a Public Liability exposure, and then continue to cover the plant on site, workers, materials and the works in progress right up to the point you move in. Site insurance is usually based on the professional reinstatement cost and runs for 12, 18 or 24 months, or until the project is completed.
(MORE: Top 10 Insurance Questions Answered)
What Should I Be Looking For In a Policy?
First you need to check the insurance you are going to buy is backed by A-rated insurers. Your policy will need to cover your whole property while it is being improved or extended, even if you aren't initially living there, which may be the case with an extensive renovation project. You should also make sure the policy covers all the new works and materials, right up to completion of the project.
You should also opt for a package where tools and equipment left on site are also protected, and employers' and public liability insurance is included. This means that anyone working on site is covered if they suffer an injury, or if damage is caused to a third party or their property.
What's more, with the right insurance policy, should anything happen to a worker or family member while on site during the course of the construction, the cost of defending or pursuing a claim is covered. You should also consider purchasing a Structural Warranty which is a lender requirement in the UK, if you are using a lender to fund your build or you wish to sell the property to someone using a mortgage you will need a 10 Year Structural Warranty.
With options to have approved inspectors carry out the building control and technical audits throughout the build, which can save you time in comparison to using the local authority and an approved inspector for your inspections. Self-Build Zone's comprehensive protection options also include the chance to take out a 10-year structural warranty on completion of the work, to protect you against defects in design, materials and workmanship. For more information, call 0345 230 9874 or visit the website (opens in new tab).
Homebuilding & Renovating Newsletter
Get the latest news, reviews and product advice straight to your inbox.
Thank you for signing up to Homebuilding. You will receive a verification email shortly.
There was a problem. Please refresh the page and try again.