Multi-Room Audio
By Claire Lloyd published
From playing music wirelessly in a couple of rooms, to a whole-house wired-in sound system, multi-room audio has come on leaps and bounds in recent years. Claire Lloyd explores the options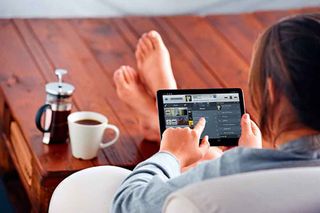 (Image credit: NuVo)
The appeal of walking from room to room with the sounds of a favourite radio show, album, or playlist following you, or throwing a party with music simultaneously filling the kitchen diner, living room and garden, are lost on few. It's a reality which is no longer just the preserve of the wealthy; when it comes to smart home technology, multi-room, multi-source audio is increasingly a luxury available to the masses.
"Historically there was quite a divide between 'accessible' solutions and what were typically considered the domain of just the custom installer; the latter perhaps used to involve a leap into the unknown with perceived cost implications," says Bob Abraham of Armour Home, whose latest multi-room audio offering, Systemline 7, is due to be released later this year.
A whole-home, multi-room sound system can be now specified for under £5,000, while a wireless system in a couple of rooms could cost upwards of £500. Mass-marketed systems such as Sonos have played a role here.
The way in which we listen to music, which has changed dramatically in just a few years has also shaped the market. The ability to stream music, providing instant access to thousands of tracks, new and old, means we're beginning to make more of audio in the home.
Where to Start
If you are taking on a project, then thinking about multi-room audio early on – i.e. before first fix, if not ideally before works start on site – is important. Retrospective work will add unnecessary expense or limit your options to wireless systems (more on this below).
There's a couple of key questions to answer at this point.
Is multi-room audio high on your wishlist, or just an added bonus (with budget prioritised accordingly)?
Is high-quality sounds a priority?
Do you wan to conceal speakers out of view, or perhaps don't mind speakers being on display?
Do you want a wall-mounted control, or handheld, or both?
Do you want to introduce multi-room audio…
throughout the entire house?
to most rooms (but excluding, say, the utility and garage)?
just in a few key rooms (the main living spaces for entertaining, or for relaxing in bedrooms and bathrooms)?
or do you simply want a dedicated media room?
Addressing all of the above will help to build a picture of your priorities.
Wireless vs. Wired
One of the first considerations is whether to opt for a wired infrastructure, or to choose an entirely wireless system — or perhaps a hybrid of both. If you are building or doing an extensive renovation you have greater opportunity to put in the wired infrastructure. In existing homes it can be more disruptive and expensive so this is where wireless technology comes into its own. "In the great wired vs. wireless debate, the world's marketing budgets are clearly being spent promoting wireless," says Will Brocklebank of CEDIA member Face-to-Face Digital. "Why? Because no manufacturer of a £50-200 device wants to demand that the purchase of its new product requires £250-1,000 of third-party wiring and making-good before it will work."
So why go to the additional effort and expense of adding in the cabling when there are wireless multi-room audio systems on offer? Well, for one it puts less demand on your home network. Moreover, if you live in a rural area, you may suffer from slow broadband speeds — far from ideal for multi-room audio.
"As the number of wireless networks increases, the interference increases," Will Brocklebank picks up the story. "Your WiFi router or access point will step down both its range and speed to maintain the connection in the face of this interference and this reduces the effectiveness."
While systems such as Sonos communicate via their own wireless 'mesh', if your router drops out, so too will the audio.The materials from which a house is constructed can be problematic, too. Traditional brick and stone constructions pose a problem to wireless. However, in the plasterboard and two-by-four constructions more typically found in the US, wireless can cut through most of a house. Some modern building materials can also inhibit WiFi. There are a couple of ways to achieve a wired infrastructure. You can have a go at designing your own, with your electrician installing the cabling. (Do take a look at CEDIA's useful Wiring Guidelines.)
Bob Abraham advises running the cabling to each room – Cat5e and at least two decent speaker cables – then trace this back to a central point. A Garage, cupboard or somewhere with a reasonable amount of space is a good place to house the central kit. If you're considering adding other forms of smart home technology, then it's a very good idea to approach a specialist smart home technology installer – preferably a member of industry body CEDIA (Custom Electronic Design and Installation Association) – who will design a wired infrastructure and install and integrate the equipment as well. Some companies, such as Face-to-Face Digital, even offer multi-room audio packages for a fixed price.
Systems to Consider
There are a number of wireless and wired systems on offer and it's worth investigating the options to find out which best matches your requirements. It's worth noting, too, that some wireless options can be hard-wired, and some manufacturers provide both wired and wireless audio solutions, such as NuVo.
Multi-room, multi-source solutions such as Sonos allow you to build a system and add to it, creating different 'zones' (up to 32 in Sonos' case) which can play simultaneously, or be controlled to play in selected zones. They also allow users to play different music in different rooms. Control is another factor. Many wireless options are controlled via apps on a smart phone or tablet. "This has some really great advantages, but can also be frustrating if the user wants to interact with the system quickly. A great example of this is when you want to move between rooms in your home and bring the music with you," says Daniel Knight of Fibaro UK. Some systems offer options for control by a dedicated remote or wall-mounted screen, or by a proprietary device.
The Key Players:
Sonos
Sonos is arguably still the market-leader in wireless multi-room audio (it can also be hard-wired). "Sonos is a music company only; it has been doing it for years and realises that fundamentally the effectiveness of the multi-room music system is in the control," according to Face-to-Face Digital, Will Brocklebank. "Certainly there are reasonable ways to do one-source-to-one-room streaming – Apple's Airplay, DLNA, etc. – but when you have to choose what to play in multiple rooms, group them together, drop one out, or vary volume across all of them, Sonos has a much better interface. It also provides ease of use, coupled with a broad range of products and good sound quality"
Jongo
Jongo, by British company Pure, is a recent addition to the wireless market. Controlled via smartphone or tablet through the Pure Connect app, one of the main selling points is the price — it's cheaper than Sonos. A further benefit is that it's Bluetooth-enabled, allowing you to stream music directly from a smartphone or tablet.
Systemline 7
A wired solution just about to be launched by British-based Armour Home is Systemline 7. "The benefit of Systemline 7 is that it uses 'an open access internet protocol gateway'; many mass-market products are 'closed'. In basic terms, this means we publish all the information on how the system is controlled, meaning that other elements of smart home technology (be that a controller such as Control4) can be integrated with some ease," explains Bob Abraham of Armour Home. It also comes with a built-in music server. With a number of other systems, such as Sonos, you'll need an external music server to store your music; this may be your phone, a PC, a NAS (network attached storage) drive, or a dedicated media server such as Zoneripper.
Speakers
Gone are the days of ugly, bulky speakers with power cables trailing across the carpet. Speaker options are numerous (some systems even allow you to connect to existing speakers) and specification will again be down to a number of factors. For owners of minimalistic interiors who wish to see technology concealed, built-in wall or ceiling speakers are the way to go (try Amina). There's even the option for speakers to be hidden behind artwork; check out Artcoustic. However, if you're looking to move on in the near future or adding speakers retrospectively, then freestanding speakers are becoming increasing sleeker and smaller. The positioning of speakers can be key, too.
"Homeowners tend to go wrong by relying on very poor-quality in-ceiling speakers. Kitchens and bathrooms are both full of hard, reflective surfaces, so acoustics are always going to be challenging; in these rooms in-ceiling speakers are fine, but in living rooms, bedrooms, etc, multi-room audio can and should be done better through the use of in-wall speakers, TV sound bars (e.g. Sonos Playbar) or good-looking bookshelf speakers," says Will Brocklebank.
The Integrated Home
Another key question to address from the outset is whether you just want multi-room audio, or whether you aim to include other elements of smart home technology. For example, you may want to include high-definition TV, smart lighting, security — the possibilities with smart home technology are too numerous to name here (and the sky can be the limit when it comes to budget).
The task of integrating these technologies and controlling all via a single dedicated control (be that a wall-mounted panel, a handheld device or even a tablet or smartphone) is a complex one. This is because different pieces of kit use different 'communication protocols' to do their job — welcome to the complex world of WiFi, ZigBee, Z-wave and the like. Getting these different protocols to 'talk' to one another is where the complexity lies. And that's not even to mention that products from different manufacturers which use the same protocol (i.e. WiFi) may not be able to communicate with one another.
Integration is therefore a task best left to a CEDIA-accredited smart home installation specialist (below, we look at a handful of CEDIA-award-winning projects). Such companies will not only design a system and install the kit, but will get all the technology talking, allowing for control via one device. There are also some companies that specialise in providing a range of products which are designed to be integrated. One example is Fibaro UK.
"By employing Fibaro Z-Wave Sensors, you can add a variety of useful extra features to your multi-room audio system. For example, by installing a Fibaro Motion Sensor in an en suite, the homeowner can set it to detect motion in the bathroom and bedroom and react by turning the music on or off," says Daniel Knight, Fibaro UK's technical director. "The system can also expand further and switch on lights, heaters or extractor fans at the same time, or at a scheduled time of the day. The benefit to automating these small actions is so you don't have to keep taking your phone out of your pocket for quick actions to begin."
Case Studies
The Integrated Self Build
CEDIA celebrates the best in smart home installation through its annual awards scheme, and the solution which James & Giles implemented in this striking London self-build was recently hailed by the judges as "a solution which integrates everything — tech, architecture and great interior design". It went on to win the Best Integrated Home Under £100,000 category in the CEDIA Awards 2014. "The client was keen to retain the home's Code for Sustainable Homes Level 4 and BREEAM EcoHomes rating of 'Very Good'," says Giles Sutton, director of James & Giles.
"Our cost-effective system successfully manages the chief low-energy features, including the heat-recovery ventilation, heating and solar-shading, alongside lighting, security and home entertainment."
In this open plan house, concealment of the technology was important to maintaining the clean aesthetic. With most walls and floors constructed in solid concrete or glass, embedding the cabling and technology was either impractical or impossible. So James & Giles' ingenious solution was for a 'chimney', which runs through the core of the home, to provide a location for the service run of cabling and HVAC components. In the main living space this central core also houses a flat-screen TV, and behind a detachable acrylic panel, which blends in with the panels when not in use, a soundbar and subwoofer.
The client can operate all the sub-systems in the house from a Control4 touchscreen, iPad or smart phone. Meanwhile, a discrete plant room is home to the technology hub, which stores equipment.
The Challenging Media Room
This 'glass-box' media room, created by Cornflake, secured the Best Media Room Under £15,000 category in the CEDIA Awards 2014. It was deemed to have "very successfully met a series of unique design challenges". With two floor-to-ceiling walls and limited wall space – with just one solid wall with potential to hang a TV – the room layout provided little camouflage for hiding audio-visual (AV) kit, let alone a sophisticated media suite. The other significant challenge was the room's sunny south-facing position and resultant screen glare.
Cornflake's solution includes a Samsung 55" ES8000 TV on an extending, electric motorised TV bracket, engineered so that it is capable of swivelling to face the viewer wherever they are seated in the room. Sound is provided by a small Leon Custom LCR soundbar speaker with a pair of B&W CCM684 speakers subtly plastered in the ceiling. The system is driven by a Yamaha AV receiver, located along with the Yamaha Blu-Ray player and the rest of the hardware outside of the room within a bespoke rack. The issue of eliminating screen glare, and darkening the room was addressed by installing a dual-action blind and lighting circuit. The Lutron-controlled system is both stylish and simple to operate from a single keypad pre-set with four different scenes to cover various daytime and evening viewing options.
"This is a tricky room with lots of glass that was hard to design around," says the homeowner. "I am amazed the Cornflake team got everything in as requested and that the audio sound is so warm and effusive, given all the acoustic challenges."
National Smart Home Month will run throughout October to raise awareness about the life-enhancing benefits of smart home technology. Find out all you need to know about adding smart tech into your home with product and project advice from Real Homes, Homebuilding & Renovating, T3 and TechRadar.
Claire is Editor of Homebuilding & Renovating and has been a member of the team for over 13 years. An experienced homes journalist, her work has also appeared in Real Homes and Period Living magazines. She has a particular interest in green homes, and interior design is also a passion; she has undertaken qualifications in this area. Claire has recently finished her renovation project — and is now onto the next.
Homebuilding & Renovating Newsletter
Get the latest news, reviews and product advice straight to your inbox.
Thank you for signing up to Homebuilding. You will receive a verification email shortly.
There was a problem. Please refresh the page and try again.