Advertisement Feature
Looking for a Healthy and Ecologically Sustainable Wooden Home?
By Sponsored Content published
Great indoor air, plenty of health benefits, style that fits your needs, and the ability to enhance our planet. Artichouse wooden homes make this possible.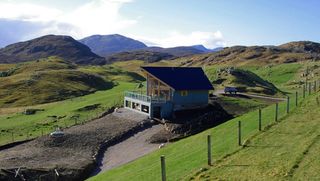 (Image credit: Artichouse)
Content by Artichouse
Post & Beam or log home, modern or traditional? Envision your dream home, according to your bespoke needs and wishes, from scratch to a lifelong home. A home which has great indoor air, plenty of health benefits, style that fits your needs, and even the ability to enhance the well-being of our planet. With Artichouse wooden homes, all of this is possible.
Why Choose Wood Over Bricks or Concrete?
Wood is definitely the most ecological of current building materials. When wood is used as a building material, it lowers the amount of greenhouse emissions caused by a new build as it functions as a carbon sink. A medium-sized log house consists of approximately 30 tons of wood. While growing, the wood has absorbed the same amount of carbon dioxide that is generated by driving a car 31 times around the Earth (400 000km.)
Finland has vast sustainably managed forest which grow annually 30% more than what is being cut from said forests. Artichouse sources all of their raw material from sustainably managed Finnish forests. Using the wood as a building material stores the carbon dioxide instead of releasing it to the atmosphere. Building with bricks or concrete only generates more emissions and also wastes a lot of water during the manufacturing process. Bricks and concrete have their use in groundworks, but wood has better ecological properties in other structures.
Northern Wood or Southern Wood, Does it Matter?
The pine that has grown in the harsh landscape of Finnish Lapland is an ideal building material for a wooden home. Trees grow very slowly in harsh environments. The short growing season produces a dense, even structure. The conditions give the wood an ideal protection, a strong resistance and durability.

The tensile strength is much greater with the polar pine than its southern counterpart or other European softwoods. Also, the surface hardness of the polar pine in relation to the density of the timber is greater than that of southern softwoods. This makes it ideal as both a surface material and a structural building material.
Enjoying Everyday Life
The quality of our lives correlates with our surroundings. Choosing a log home or a wooden home is a responsible and long-lasting solution both for your personal well-being as well as your family and our society as whole. The respiratory organs' greatest enemies – mold, dust mites, bacteria and viruses do not thrive in correctly built log houses. The optimal air humidity – which the wooden walls keep in balance – prevents their growth.
Log homes and wooden homes are very pleasant to live in, with indoor air being cool in the summer and warm in the winter due to woods ability to store heat and release it slowly. With beautiful wooden details and structures a log home or a wooden home is a great setting for a nicely furnished interior. It is a perfect place for quality time spent together with the family from generation to generation.
Artichouse Wooden Homes
Artichouse wooden homes are made from the best raw materials grown in Finnish Lapland, with high quality workmanship and ecological production. Years of experience with varied building projects around the globe have given us the insight to choose best solutions for each customer. Our family company has been one of Finland's top exporters of bespoke wooden and log homes for years. We have been designing and manufacturing wooden homes to the United Kingdom since the 1980's.
Our main priority is to design and manufacture a home that is suitable and bespoke just for you. We have a wide variety of standard designs that can be modified according to your wishes, everything from traditional to modern homes. We can also deliver a home according to your own drawings. From our website www.artichouse.co.uk (opens in new tab) you can find plenty of designs and photos of projects we have delivered to give you some inspiration.
Homebuilding & Renovating Newsletter
Get the latest news, reviews and product advice straight to your inbox.
Thank you for signing up to Homebuilding. You will receive a verification email shortly.
There was a problem. Please refresh the page and try again.