Advertisement Feature
6 Brilliant Reasons You Should Choose an Air Source Heat Pump
By Sponsored Content published
If you're looking for a greener and more sustainable heating system that can help to reduce your energy bills, air source heat pumps are well worth considering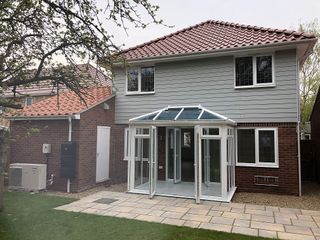 (Image credit: c/o Panasonic)
Content supplied by Panasonic
Air source heat pumps collect heat energy from outside and use it to provide heat and hot water inside, making them a great choice for those looking for a green heating system.
For many homeowners, air source heat pumps can be a great and more sustainable alternative to oil, LPG, electric or mains gas-powered systems.
Air source heat pumps are reliable, easy to install and cost-effective, but their benefits don't end there.
1. An Air Source Heat Pump Offers Low Running Costs
With an air source heat pump, energy cost savings of up to £945* a year are possible compared to the cost of conventional electric heating.
Whilst an air source heat pump will require a larger initial investment than other systems, the running costs are significantly lower which means you can recoup those initial outlays over a relatively short period of time.
2. They are Highly Efficient and Environmentally Friendly
As well as providing significant cost savings, choosing an air source heat pump can also provide improvements to heating performance. Based on air to water heat pump technology, air source heat pumps, such as Panasonic's Aquarea, are highly efficient. It captures heat energy from the outside air and transfers it to heat the water needed to warm your home, for domestic hot water and even to cool the house in summer if desired. In this way, up to 80% of the heat energy required is taken from the ambient air - even when outdoor temperatures are extremely low.
Aquarea heat pumps offer users an easy and intuitive smart cloud option with remote control and maintenance functions to allow homeowners to monitor and track their energy usage, to help cut costs and be more energy efficient.
3. You Can Use Them For a Variety of Purposes
Air source heat pumps can be used to provide heating, hot water and even cooling in your home, depending on the unit you choose. Do your research and speak to specialist retailers to ensure you choose the right heat pump for your home.
4. There are Options for Any Size Property
Available in different unit sizes, there are air source heat pumps available to meet the heating and hot water demands of any size property. As an example, the Aquarea units from Panasonic can supply all the heating and domestic hot water to a 450m2 new build property.
If you are looking to install an air source heat pump in your self build home, make sure you plan it from the design stage to ensure optimal efficiency.
5. Underfloor Heating Compatible
Panasonic Aquarea heat pumps are suitable for use with underfloor heating systems. As underfloor heating can achieve a comfortable environment at a lower temperature than radiators, this compatibility adds to the green credentials of an air source heat pump.
6. They're Eligible for Government Grants
The Renewable Heat Incentive (RHI) is a government scheme designed to reward those homeowners using renewable energy, and air source heat pumps are just one of the technologies eligible for the scheme.
In addition to the UK RHI Scheme, Panasonic is offering an incentive, The Green Homes Cashback Scheme, to homeowners who install air source heat pumps in the UK. Under the scheme, homeowners replacing an oil-fired, LPG, electric or mains gas boiler will be able to claim cashback of up to £600* via the Green Homes Cashback Scheme following the successful installation of a Panasonic Aquarea A2W heat pump with a connected Smart Cloud Controller.
The scheme, available throughout the UK, is available for installations between 1 October 2020 to 31 August 2021. Claims for the Panasonic cashback scheme can be submitted regardless as to whether participants have claimed any other government incentives.
Panasonic provides help and support throughout the process including finding an accredited installer and guidance on applying for government grants such as the Renewable Heat Incentive scheme.
Find out more about the Panasonic Aquarea range of air source heat pumps.
Homebuilding & Renovating Newsletter
Get the latest news, reviews and product advice straight to your inbox.
Thank you for signing up to Homebuilding. You will receive a verification email shortly.
There was a problem. Please refresh the page and try again.