Take a look inside this little 'mushroom' house believed to date back to the 1800s
The owners of the unusual home have decided to sell up after renovating it but finding a buyer may prove difficult as the home comes with a bit of a catch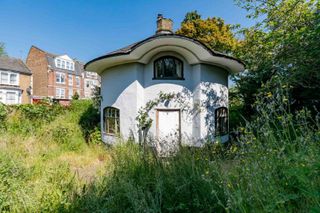 (Image credit: Unique Property Company)
A 'fairytale' house in London that resembles a giant mushroom has gone on sale for £350,000 — but there's a catch.
The house, which is Grade II-listed and sits in a large private garden in North London's Wood Green High Road, has a ground rent of £12,500 per year
The circular design and fungi-like cap roof, combined with the foliage it sits in, gives the house style an otherworldly, fantasy feel.
Visible beams give rustic feel
The property is believed to have been built in the early 1800s and was formerly a lodging house for the gatekeeper and staff of the Chilts House Estate. The estate itself was demolished in 1895.
It is likely that the original purpose of the property was either as a children's playhouse or an ornamental dairy, which were popular shows of wealth in the estates of aristocrats during the Georgian era. In its listing, Historic England states that it has been listed for "curiosity value".
The Unique Property Company listing states it is constructed around a central double brick chimney breast, with wood beams and 'structural features' throughout. The ground floor has a kitchen and living area that surround the fireplace.
Upstairs features two double bedrooms, one with a brick fireplace and the bathroom has been stripped back to its beams and has a tin bath.
Image 1 of 3
Stairs from repurposed iron bars and circular walls
The stair supports are made from repurposed iron bars. There also is a loft space accessible from the hallway.
The property has underfloor heating beneath parquet flooring and the nature and construction of this building means it is "kept remarkably cool in summer but retains heat well, rare for a Georgian-era property in London".
The listing adds: "It's an incredibly rare example of how independent builders of the era (architects in their own right) put their own spin on property in London.
"Sitting on a huge plot, the garden has been re-wilded in the last year but is essentially a playground in its own right. The setting is something of dreams, set into a park but fenced off from wandering eyes."
Image 1 of 2
Former lodging house available for £350,000
The Mushroom House is listed for £350,000 and has served as home for Retts Wood, her partner, Nate Petre, and their two children since 2016.
When they bought it, the home needed considerable work as it was filled with mould and had a number of issues with its interior.
Wood told the Evening Standard: "You walked inside and it had cupboards falling off the walls.
"Instead of curtains, it had sheets pinned up – a proper student vibe. It was really run-down, but it is such a magical little place."
Image 1 of 3
However, the property has a catch
The ground rent – the charge for renting out the land from the freeholder, in this case Haringey Council – is fixed at £12,500 per year and the house is classed as a commercial live/work space.
This type of lease means getting a mortgage is difficult and it is available to cash buyers only, who will also need to operate a business from the space.
Despite this, the agents say they have had dozens of enquiries in less than a week.
Wood added: "You see people looking, and occasionally people have said: "'What is this place?' I've always invited them to come in and have a look."
Image 1 of 3
Get the Homebuilding & Renovating Newsletter
Bring your dream home to life with expert advice, how-to guides and design inspiration, direct to your inbox.
Sam is based in Coventry and has been a news reporter for nearly 20 years. His work has featured in the Mirror, The Sun, MailOnline, the Independent, and news outlets throughout the world. As a copywriter, he has written for clients as diverse as Saint-Gobain, Michelin, Halfords Autocentre, Great British Heating, and Irwin Industrial Tools. During the pandemic, he converted a van into a mini-camper and is currently planning to convert his shed into an office and Star Wars shrine.