Stamp Duty Holiday: 33% to Use Savings on Renovations to New Homes
The stamp duty holiday is great news for potential renovators who can reinvest the savings into their home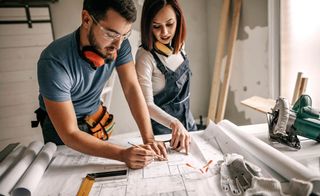 (Image credit: Getty Images)
One third of homeowners plan to use stamp duty holiday savings to make home improvements to their new properties, Checkatrade reports. 
The stamp duty holiday announced by chancellor Rishi Sunak in July exempts the first £500,000 of all property sales from the tax, incentivising aspiring homeowners to climb onto the property market.
The holiday is valuable for those considering renovating a house, and those in the midst of buying or considering a move in the coming months, who can reinvest the savings into their project. 
In total, 33% plan to direct the savings into their new home by making home improvements or renovations, which Checkatrade estimates will lead to an average spend of £4,743 per household. 
Mike Fairman, CEO of Checkatrade, said: "Savvy Brits are clearly planning to make the most of the stamp duty holiday with many buyers already planning to reinvest the money saved back into their homes. 
"From unlocking the potential to take on a project through to giving buyers the means to immediately make their mark on their new pad, it's great news for both would-be new home-owners and tradespeople alike."
Where Will Stamp Duty Savings be Reinvested?
The Checkatrade findings, based on a survey of 2,001 people, also identified which rooms potential renovators are planning to reinvest the savings on. 
Top 10 renovations of choice were:
New kitchen – 40%
New bathroom – 30%
Living room – 27%
Garden – 24%
Patio / outdoor entertaining space – 18%
Dining room – 12%
Loft conversion – 12%
Cinema / home entertainment / games room – 12%
Indoor workspace – 12%
Outdoor workspace / swimming pool – 11%
Potential home movers are predicted to save £38.1 billion nationally during the stamp duty holiday, and 14% confirmed that the introduction of the stamp duty holiday means they are now on the lookout for a house, or they have already completed a purchase.
Moreover, 59% said they'd be more likely to buy a 'fixer-upper', as they'd have additional money available to put their own stamp on a home. 
(MORE: 25 Things You Need to Know Before You Renovate)
The stamp duty holiday is set to last until 31st March. Mr Sunak is next expected to provide an update on housing activity in the UK when he presents the Autumn Budget in October.
Homebuilding & Renovating Newsletter
Get the latest news, expert advice and product inspiration straight to your inbox.
Thank you for signing up to Homebuilding. You will receive a verification email shortly.
There was a problem. Please refresh the page and try again.