Four in 10 Struggled to Pay Energy Bills Before Price Hike
By Rob Keal published
As most UK homes are hit by rising bills, new data suggests that 40% of households were struggling to pay before the latest price cap increase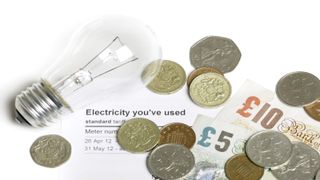 (Image credit: Getty Images)
Around four in 10 UK households were struggling to pay their energy bills even before prices went up in April, according to new research.
A new survey from the Office of National Statistics (ONS) has revealed that 43% of families said heating and lighting their homes in March was difficult given the costs involved.
This survey was conducted prior to energy price rises of 54% at the start of April, when the Energy Price Cap was lifted to £1,971, which added £693 a year to households using a typical amount of gas and electricity.
Around 18 million UK households have been affected by this increase, while 4.5 million customers on prepayment meters face an even bigger price hike of £708 per year.
According to the ONS findings, around 6% of bill payers said they were now behind on payments to their utilities providers. Meanwhile, 43% said they would not be able to save any money over the next 12 months.
How Can You Lower Your Energy Bills?
The ONS findings paint a worrying picture for many households, but our eight-point plan of energy saving tips can help you make important changes to your heating and lighting usage, so you can lower your energy consumption and keep bills down.
Making the switch to LED light bulbs, for example, can reduce your electricity output while doing good for the environment.
Meanwhile, a recent study revealed that households could save £200 per year over 10 years if they have new insulation installed.
Other cost-effective measures for limiting heat loss in your home include draught proofing and checking that your boiler is adjusted to 60°C — the temperature flow is usually set to around 75°C in most factory-made boilers. This lets you recover more heat as water vapour condenses without sacrificing too much in the way of temperature.
Rob Keal is the Content Editor at Homebuilding & Renovating. With a background in content marketing, he began his career back in 2016 as a freelancer, before honing his craft at various digital marketing agencies. Looking to specialise in DIY and homes, he joined the team in February 2022.
Renovation has been part of his life since he was nine years old, when his parents bought a medieval cottage and completely revived it, introducing him to kitchen remodels, loft conversions, landscape gardening, and much more besides along the way. A bedroom extension and patio refurbishment are among his next planned projects. He is also passionate about interior design and landscape gardening.
Homebuilding & Renovating Newsletter
Get the latest news, reviews and product advice straight to your inbox.
Thank you for signing up to Homebuilding. You will receive a verification email shortly.
There was a problem. Please refresh the page and try again.