Advertisement Feature
Your Top 5 Insulation Questions Answered
By Sponsored Content published
We answer some of the most common insulation questions and give you tips on how to improve your home's thermal efficiency.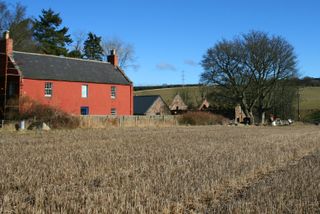 (Image credit: Huntsman Building Solutions)
Content supplied by Huntsman Building Solutions (opens in new tab)
A well insulated home is not only a pleasure to live in, but it can also save you money and ensure your home is as energy efficient as possible. Here, we answer some of the most common insulation questions and give you tips on how to improve your home's thermal efficiency.
1. My house is insulated but it still feels cold — why?
Your home might be insulated but it is not necessarily insulated well. A recent environmental survey audit select committee report stated that 19 million UK homes are poorly insulated. Over 60% of the current UK housing stock was built pre-1960 when very little thought was given to heat loss prevention — so if your house was one of them then this could be why.
You should also consider how airtight your home is — it won't matter what kind of insulation you have if your home is losing heat because of air leakage.
2. What exactly is a U-value?
In the UK, the construction industry focuses primarily on U-values as a measure of conductive heat loss. A U-value is the sum of the thermal resistances of all the elements of a building (such as the roof, floor or wall) and will include adjustments for air gaps and fixings too.
U-values are shown in units of W/m2K and are used to measure a building's ability to transmit heat between warm spaces and cold spaces. The lower the U-value, the less energy is required to maintain comfortable conditions inside a building.
Bear in mind though, that it won't matter how low your U-value is if there are still draughts — these need to be dealt with properly with good insulation.
3. What can I do to improve my home's energy efficiency?
There are many steps you can take to up the energy efficiency of your home but one of the best ways is to improve the insulation and airtightness. By doing this, you will also find your home more comfortable to live in, as well as noticing a reduction in your heating bills.
Many traditional forms of insulation are relatively inefficient in preventing air leakage through draughts as they can't completely fill the complex voids and cracks in roof structures or seal the interface between the insulation and the building components — they can also struggle to cope with small structural movements, leading to air gaps.
Using a breathable, open cell spray applied foam will overcome all these issues as they are highly efficient insulators against both conductive and convective heat loss, controlling air movement and eliminating leakage. Spray applied foam – sometimes called SPF – is also flexible and so capable of dealing with movement.
4. I live in a period house — what is the best way to insulate it?
You need to ensure that the type of insulation you use does not interfere with the breathability of the building — otherwise the original fabric of the building could be compromised and you may find yourself dealing with unnecessary damp and condensation issues.
Try a spray applied foam insulation — they are open cell materials that allow buildings to breath naturally and resist internal condensation.
5. What other steps can I take to reduce heat loss?
Although insulating your home properly is the best way to reduce heat loss (walls, floors and roofs all need to be taken into account) there are other steps you can take too.
Replace or add draught-proofing strips around windows and doors and fill any cracks around the frames. You should also put right any windows and doors that are not fitting into their frames properly.
In the case of external doors, fitting brush seals is also effective.
Seal up unused vents and chimneys and look out for large gaps in floorboards too.
Huntsman Building Solutions (HBS) is the world-leading polyurethane spray foam insulation manufacturer with 110 years of combined expertise from Huntsman, Icynene and Demilec.
Find out more about the company and their products by visiting their website.
Homebuilding & Renovating Newsletter
Get the latest news, reviews and product advice straight to your inbox.
Thank you for signing up to Homebuilding. You will receive a verification email shortly.
There was a problem. Please refresh the page and try again.