Advertisement Feature
8 Tips for Improving Your Home Security
By Sponsored Content published
As the number of burglary offences across England and Wales continue to rise, alongside flat-lining burglary detection rates, it's hardly surprising that British homeowners are doing all that they can to avoid a burglary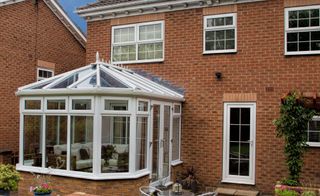 (Image credit: Global Windows)
CONTENT SUPPLIED BY GLOBAL WINDOWS
Homes with no security measures in place are five times more likely (opens in new tab) to be burgled. Other than the financial stress, the emotional impact a burglary can cause can be much more detrimental to an entire household's emotional wellbeing. Don't let burglars steal your peace of mind this year, simply follow these 8 proactive tips for improving your home security.
1. Look at Your Home Through a Burglar's Eyes
A good way to initially assess your home security is to stand outside and pretend you've been locked out. How can you get back in? Are there any vulnerable points of access? If you have fences around the garden, are they in good condition? Can you spot your valuables clearly through the window? Does your glazing look like it's particularly thin or worn down, if it looks less durable it's likely it will be easier to force entry upon.
2. Use High-Quality Locks
This may sound straightforward, but did you know that more than a third of burglars enter through the front door? And that nearly 30% of burglars enter through an unlocked door or window? Shocking isn't it?! That's why it's extremely important that your home improvement products are rigorously tested (opens in new tab) to meet industry standards.
Upgrading your windows and doors is an ideal way to drastically improve upon home security, so be sure to look out for windows and doors that feature PAS 24 standard (opens in new tab) locking mechanisms. PAS 24 is an enhanced security standard, designed to analyse whether windows and doors can withstand a series of tests that keep intruders at bay for a defined period of time. Double glazing (opens in new tab) and triple glazing provides more sufficient protection than secondary glazing.
Fitting laminated glass and window locks with keys to all easy to reach windows is a great way to reinforce your home too, making sure that window keys are always removed and kept in a safe place out of a burglar's sightline.
Another important security standard to look out for are products that display the Secured by Design (SBD) logo. With more than one million homes built to SBD standards over the last 3 decades, this crucial police backed initiative achieves sustainable reductions in crime through design throughout construction and housebuilding circles across Britain.
Market leading British standard lock providers like Yale and Ultion Brisant Secure offer cautious property owner's further security incentives, including up to £1000 in compensation if a break-in is caused by a lock failure.
Click here for a comprehensive Yale lock & Ultion lock comparison table. (opens in new tab)
3. Invest in a 'Digital Spy Hole'
Security technology has come on in leaps and bounds, with security video doorbells surging in popularity amongst vigilant homeowners. With most burglaries taking place between 10am and 3pm, they enable you to see, hear and speak to visitors from anywhere in the world via a user-friendly smart phone app. These technologically advanced doorbells allow homeowners to safely monitor their doorsteps when no-one's home.
4. Put Your Home in Safe Hands
Ensuring the use of a tradesperson you can trust is also advisable, so be sure to look out for memberships to the likes of Which Trusted Trader (opens in new tab), Checkatrade (opens in new tab) and comprehensive insurance backed guarantees like the Consumer Protection Association (opens in new tab).
5. Don't Overshare
Most burglaries are committed by burglars who live nearby. With this in mind, try to refrain from posting photos of yourself on holiday on social media sites as this will alert potential burglars that you're away. Although it's possible to make certain social media settings private, ask yourself; do you know and trust every 'friend' that you have on Facebook or the like? If the answer is no, don't make your home vulnerable to attack with your 'holiday spam' – simply share it when you're back from your travels.
Bragging about new items on social media also puts your home at risk, as it provides thieves with a list of items to look out for! Reduce the risk of becoming a target by avoiding posting car registration plates, photos of your door number or street name, documents that reveal personal data and desirable objects such as new jewellery, expensive electronic equipment and cars.
Furthermore, if your home is broken into due to over-sharing, some home insurance policies have been known to pay out less or not at all in these circumstances.
6. Strike an Even Balance
Security cameras and systems hold real power to deter potential burglars, which acts to keep your insurance premiums low. Although CCTV tops the list of effective burglar deterrents, it's important to understand that most uses of CCTV are covered by the Data Protection Act; meaning that you could get into serious trouble if you're caught breaking the law with regards to how you process and store your footage. We've also heard of cases where too many security cameras have actually encouraged curious house breakers into discovering what lays within fortress-like homes. So, striking an even balance is essential if you're considering a security system.
7. A Tidy Home is a Safer Home
An overgrown lawn or untidy yard can give the impression to thieves that you're elsewhere, leaving your home open to intrusion. Clearing takeaway menus and litter is also advisable, as burglars have been known to place such items by doors and driveways to test whether homeowners are home or away.
8. Curtain Call
They may look stylish, but thin voiles or a complete lack of curtains is a thief's dream. Simply block their view by fitting thick, opaque curtains; black-out curtains are ideal. Automated curtains that go up and down at set times are possible, as well as modern integrated blinds that are fitted in-between the panes of double glazing.
Homebuilding & Renovating Newsletter
Get the latest news, reviews and product advice straight to your inbox.
Thank you for signing up to Homebuilding. You will receive a verification email shortly.
There was a problem. Please refresh the page and try again.