Advertisement Feature
4 Reasons You Should Incorporate a Rainwater Harvesting System into Your Home Design
By Sponsored Content published
A rainwater harvesting system can mitigate the effects of our changing climate and help to avoid flooding and droughts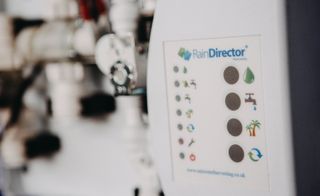 (Image credit: Rainwater Harvesting)
The changing weather patterns we are experiencing thanks to an increasingly warm global climate mean that areas of the UK can experience both droughts and flooding over the course of the year.
Usually, these problems are seen as two different issues but to plan for the future, there should be a viable holistic approach.
By harvesting rainwater around our homes, homeowners can help to alleviate the effects of these more extreme conditions and future proof our water supply.
Here are four great reasons to adopt a rainwater harvesting approach in your home.
It's Sustainable
If you are building a home with sustainability at its core, then incorporating a rainwater harvesting system is a great idea. There are various systems available, including both above and below ground options. They all collect, filter and store the rainwater so it can be used for non-drinking or non-bathing purposes around the home.
Underground tank options tend to be the most popular – being below ground prevents the potential of freezing.
It'll Help Reduce the Stress on Mains Water Supply in Times of Drought
There is no need to flush toilets with drinking quality water bought from miles away. Harvested rainwater can be used for toilets, washing machines or gardening which can significantly reduce the stress on the mains supply.
Rainwater is filtered and stored in an underground tank and then pumped back into the house either directly to each appliance or by a gravity system.
It'll Act as a Sustainable Drainage System (SuDS)
During heavy storms fast flowing excess water is collected off the roof into the harvesting tank. This extra capacity can then be returned to the drains at a low rate so as not to overwhelm the drainage system. This water can then be treated and returned to the home as mains supply.
This can be a useful water usage and drainage strategy in planning applications.
It's Low Maintenance
Rainwater harvesting systems are designed to be low-maintenance – filters will simply need to be checked every six months or so.
For more information about how you can incorporate a rainwater harvesting system into your self build design, contact Rainwater Harvesting.
Homebuilding & Renovating Newsletter
Get the latest news, reviews and product advice straight to your inbox.
Thank you for signing up to Homebuilding. You will receive a verification email shortly.
There was a problem. Please refresh the page and try again.