Advertisement Feature
4 Reasons to Choose MVHR for Your Home
By Sponsored Content published
Larry Soper, Technical Training Manager at EnviroVent, discusses the four main reasons you should choose mechanical ventilation with heat recovery for your project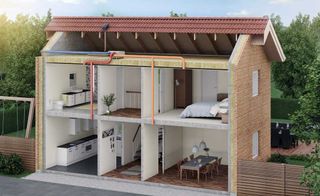 (Image credit: Environvent)
CONTENT SUPPLIED BY ENVIROVENT
Fresh air is essential for a comfortable and healthy home so when building your own home, you need to give particular consideration to how you will ventilate your property.
As well as creating a comfortable atmosphere, effective ventilation will help to prevent damp and condensation, thus reducing the risk of mould.
One method of ventilating your home is to use a controlled ventilation system such as MVHR (Mechanical Ventilation with Heat Recovery) (opens in new tab). Here are four reasons you should consider MVHR for your self build.
1. You are Building from Scratch
What is MVHR?
A Mechanical Heat Recovery Ventilation system provides both extract and supply ventilation. It extracts heat and moisture from wet rooms/kitchens and supplies fresh, filtered air, including recovered heat, to habitable rooms.
While ventilation will need to be considered whether you are renovating or building from scratch, MVHR is best suited to new build projects where it can be designed in from the start. It is not impossible to retrofit into an existing property but the associated cost of installation, plus the capital cost of the system, can make it prohibitively expensive.
2. You are Building an Energy-Efficient or Passivhaus Home
MVHR works most efficiently in an airtight home, so is a great option for homes where energy efficiency is high on the agenda (all Passivhaus-certified homes feature MVHR). A MVHR unit can make your home more energy efficient when installed correctly, extracting moisture caused by everyday activities, which can be especially prevalent in bathrooms and kitchens.
MVHR extracts warm moist air from bathrooms, en suites, kitchens and utility rooms through a central unit to atmosphere. Filtered fresh air is simultaneously drawn from atmosphere through the central unit and distributed into habitable rooms (such as bedrooms and living areas). The heat from the extracted air is transferred to the incoming fresh filtered air before entering the rooms, saving on heating costs.
3. You or Someone in Your Family Suffers from Allergies
A key benefit of MVHR is improved air quality as filters in the system facilitate the removal of pollution and airborne allergens, such as pollen, which can be incredibly beneficial for allergy sufferers.
4. You Want a Consistent Temperature Throughout the House
Complete Service
Whether you are planning a self build or looking to renovate your current property, EnviroVent offers a complete service solution which includes a free ventilation design service, property surveys and expert installation and commissioning of your system. It offers a range of heat recovery products with different performance outputs and in different sizes to suit every project. Contact EnviroVent (opens in new tab) for more information.
MVHR will help lower humidity levels and avoid the formation of condensation, but it will also allow you to achieve similar comfortable temperatures throughout the house. This consistency eliminates cold spots and keeps your internal environment comfortable all year round and reduces annual heating costs.
Other controlled ventilation systems, such as Positive Input Ventilation (PIV) and Mechanical Extract Ventilation (MEV), are available so do make sure you thoroughly research the available options and choose the right one for your project.
Homebuilding & Renovating Newsletter
Get the latest news, reviews and product advice straight to your inbox.
Thank you for signing up to Homebuilding. You will receive a verification email shortly.
There was a problem. Please refresh the page and try again.