Advertisement Feature
Panasonic Unveils Green Homes Cashback Scheme for Homeowners Installing an Air Source Heat Pump
By Sponsored Content published
Panasonic's cashback scheme runs at the same time as the Government's Green Homes Grant scheme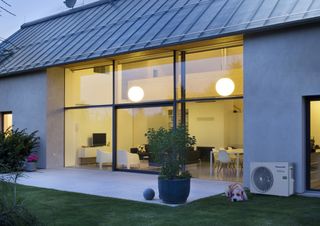 (Image credit: Panasonic)
Content supplied by Panasonic
Panasonic has unveiled details of its Green Homes Cashback Scheme - a new incentive for homeowners who install air source heat pumps in the UK.
Under this new scheme, which takes effect from 1 October 2020, homeowners replacing an oil-fired, LPG, electric or mains gas boiler will be able to claim cashback of up to £600* via the Green Homes Cashback Scheme following the successful installation of a Panasonic Aquarea A2W heat pump with a connected Smart Cloud Controller* (conditions apply).
The Green Homes Cashback Scheme from Panasonic
The new scheme, available throughout the UK, will run at the same time as the UK government's Green Homes Grant (1 October 2020 to 31 March 2021) and is an additional incentive aimed at homeowners*.
Claims for the Panasonic cashback scheme can be submitted regardless as to whether participants have claimed any other government incentives. They are two different schemes running at the same time.
* The Panasonic Scheme is not in any way connected to the government scheme.
Tony Nielsen, UK Marketing Manager for Panasonic commented, "We are delighted to announce this new scheme. Homeowners will be able to benefit and receive cashback by participating. Not only will they enjoy the advantages of an energy efficient and environmentally-friendly Aquarea air source heat pump to help to reduce heating and maintenance costs, but as long as they satisfy the scheme criteria, they will also be able to access cashback.
"The Green Homes cashback scheme is straightforward for homeowners to claim, whilst also providing the benefit of having a sustainable heating and hot water system to reduce homeowners carbon footprint."
More Ways to Keep Costs Down After Installing a Panasonic Air Source Heat Pump
Homeowners can further benefit from connecting to the Panasonic Smart Cloud to enable an easy and intuitive user interface for remote temperature adjustments from anywhere, via a mobile, tablet or laptop, on the go or from the comfort of their own home.
Additional savings can be made via monitoring powerful energy usage statistics by setting daily, weekly or monthly timers, plus holiday mode for heating and hot water requirements or setting up two zones within a home where the temperature can be adjusted separately to meet requirements. Furthermore, via the Service Cloud, service partners can offer remote maintenance and monitoring of the Aquarea units to avoid unnecessary call out charges.
Am I Eligible for Panasonic's Green Homes Cashback Scheme?
Homeowners should note that to be eligible for the Green Homes Cashback scheme, the Aquarea units must be purchased and installed by a suitable heat pump installer between 1 October 2020 and 31 March 2021. Each Aquarea unit installed must also include a CZ-TAW1 controller and be connected to the Panasonic Smart Cloud.
To benefit from the above scheme, homeowners will firstly need to locate a suitable heat pump installer – these can be found all over the UK via the Panasonic i-finder (opens in new tab) or MCS website (opens in new tab) – the installer will need to visit your home to be able to advise on the best capacity of heat pump to match the size of the house and meet your requirements.
The amount of cashback will depend on the capacity of the heat pump that is installed and will be either £250 (3-7kW), £350 (9-12kW) or £600 (16kW).
Homeowners may also be eligible to take advantage of further savings and cashback from the current UK government schemes such as the Green Homes Grant (England only) or the Renewable Heat Incentive.
How do I Claim the Cashback?
Once an Aquarea unit has been installed, the homeowner will simply need to upload evidence of the installation which includes: proof of purchase, photographic evidence of the installed outdoor unit and boiler it has replaced, model reference and serial number plus the Smart Cloud device ID.
The homeowner will then receive the cashback via a preloaded Mastercard that can be spent anywhere that displays the Mastercard logo.
Find out more information on the Green Homes Cashback scheme (opens in new tab).
For further information on Panasonic's range of heating and cooling solutions visit the website (opens in new tab).
Homebuilding & Renovating Newsletter
Get the latest news, reviews and product advice straight to your inbox.
Thank you for signing up to Homebuilding. You will receive a verification email shortly.
There was a problem. Please refresh the page and try again.