Advertisement Feature
How to Choose a Polished Screed or Synthetic Resin Floor for use with Underfloor Heating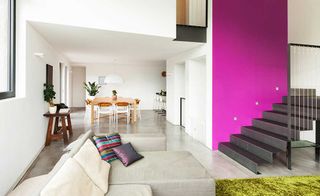 (Image credit: Nu-Heat)
Content Supplied by Nu-Heat
Due to their tough and durable finish, the use of synthetic resin and polished screed floor finishes in domestic properties is becoming far more common. As screed, by nature, is very conductive it is well suited for use with underfloor heating (UFH) and by pairing it with this heating system, it also takes away the 'cold touch' associated with choosing a hard floor covering.
Nu-Heat (opens in new tab), an established supplier of UFH, talks through the key considerations when choosing a polished screed or synthetic resin floor for use with this type of heating system.
Synthetic resin floors and UFH
Synthetic resin floor finishes complement modern, contemporary interior design. They provide a hardwearing, clean, seamless finish and are available in numerous colours to suit individual project requirements.
Synthetic resin finishes are usually manufactured from polyurethane, epoxy resin or methacrylate, often in combination. They typically have a thickness of 0.15mm to 6mm and the type and thickness of the resin used relates to the location in which they are to be laid, the durability required and the volume of foot traffic that they will encounter. They also offer a good product life of around 20 years.
When using a resin finish with UFH, it will typically be poured over the screed or self-levelling compound, or it may be applied with a roller to achieve the desired finish.
New build UFH and resin floor finishes
Resin finishes can be applied to any new-build, cement-based screed after using the manufacturer's recommended primer to seal the floor. The screed must be structurally sound and fully cured (a minimum of 28 days), flat, smooth, clean and dry, with an adequate damp proof membrane installed beneath the slab. The advice of the resin supplier should be sought when installing over anhydrite screed.
Retrofit UFH and resin floor finishes
Nu-Heat's low profile, high heat output, LoPro™Max underfloor heating system has been developed specifically for renovations and retrofit scenarios and is the perfect partner for resin floor finishes. This is because the system uses a layer of specialist self-levelling compound that provides a level, cementitious, mirror finish ready for direct application of the resin manufacturer's recommended primer followed by the resin. The addition of a glass-fibre rendering mesh in the LoPro™QuickSet compound will reduce the potential for any small stress fractures.
Polished screed and UFH
A polished screed floor finish is an ideal scenario for UFH, offering a good heat transfer that is harder to achieve with traditional floor coverings such as carpet or engineered wood which add an insulative layer.
A screed floor acts as a thermal store, holding and slowly releasing the heat from the UFH which also makes it extremely efficient as it calls for heat from the boiler less than a radiator system.
The floor temperature with a polished screed can easily exceed the standard temperatures of 18-21⁰C required for living rooms, bedrooms and bathrooms but this can be limited to the desired room temperate by your chosen thermostat or controls.
New build UFH and polished screed
In a standard new build property, the UFH will be set within the screed subfloor. In this scenario, there is no additional preparation required before laying any polished screed layer other than following those recommended by the manufacturer.
Retrofit UFH and polished screed
In a renovation project, a low profile UFH system will be laid over the existing floor such as LoPro™Max, which uses a specialist self-levelling compound to leave a perfect floor finish. In this scenario, Nu-Heat would recommend the addition of a layer of glass fibre render mesh which can be purchase from a standard builders' merchant. The mesh will reduce the potential for any stress fractures in the self-levelling compound.
Polished concrete floor finishes suitable for use with LoPro™Max are:
Microtop polished concrete coating (0.5–3mm): A polymer modified coating applied at 0.5mm to 3mm that looks like polished concrete.
Polished concrete overlays (10–40mm): A cement based overlay applied at 10mm to 40mm that can be diamond polished.
Find out more about how popular floor coverings, including carpet and laminates, work with underfloor heating on the Nu-Heat website (opens in new tab) .
Homebuilding & Renovating Newsletter
Get the latest news, reviews and product advice straight to your inbox.
Thank you for signing up to Homebuilding. You will receive a verification email shortly.
There was a problem. Please refresh the page and try again.