Advertisement Feature
Great Grout is the Perfect Finish for Tiling
By Alison Jones published
Keep it looking crisp and clean with water-resistant and stain- and mould-preventing technologies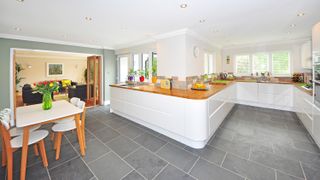 (Image credit: Saint-Gobain Weber )
Content supplied by Saint-Gobain Weber
Grout is the finishing touch to tiling. It can be subtle enough to frame a beautiful tile or bold enough to really make a pattern pop. As the gaps between pieces of porcelain or ceramic are filled in, it brings a satisfying sense of completeness –sealing and securing the design and bringing it to life.
A mix of water, cement and sand, combined to produce a dense fluid, grout is traditionally white in colour. But the increasing use of pigments means there is now a rainbow of colours to choose from.
Picking the Right Grout
However, there is more to consider than choosing the grout colour you want to set off your tiles. You must also take into account where the tiles are being laid and what they will be exposed to. Whether they will be indoors or outside. And the width of the grout joint – from a narrow 1mm up to 20mm (which might be used for outdoor tiles).
A high-quality grout is durable and will last for years without needing to be replaced. It should be able to withstand the conditions of whichever room or outside space it is you are tiling – whether that is the soap and steam of a bathroom, the heat and splashes of food and drink in a kitchen, the grime or mud that can be trodden through a utility or boot room, or the rain, snow, hot sun and dropped drinks and food a patio might have to weather.
Protecting Your Grout
In a bathroom or en suite, water resistance is key in a grout, particularly for tiling around the shower area. It has to stop moisture from penetrating and getting behind the tiles, damaging the adhesive and causing them to come loose or even fall off altogether. To give your walls and floor optimum protection, it's a good idea to use an undertile tanking kit – a waterproofing system specifically designed for use in wetrooms and bathrooms.
Grout with protection against mould growth can prevent black mould – which thrives in a warm, moist atmosphere – from spreading across tiles, bath edges and window sills. Not only can the fungi look and smell unpleasant and make the room or shower seem dirty, it is also hazardous to health if breathed in and could lead to respiratory problems and asthma attacks.
To stop grout from becoming increasingly discoloured due to food or drink spills in the kitchen or drips from hair products in the bathroom, pick one that includes anti-stain technology. Saint-Gobain Weber leads the way in this with PURE CLEAN – a unique formulation which repels dirt from the surface, keeping it pristine and preventing hours being spent scrubbing, trying to restore the grout to how it looked when the tiles were first laid.
Grout needs to be flexible when used in areas where there might be some movement or vibration to stop it cracking or crumbling. If tiles are being laid outside, either on the terrace, on walls or even around swimming pools, the grout should be frostproof so it isn't damaged during winter.
Tips for Applying Grout
Before applying new grout, ensure tiles are firmly adhered and that the gaps in between are clean.
A squeegee or rubber float can then be used to apply water-resistant grout in small sections. Ensure a smooth, even finish is created with no gaps which could cause further problems down the line.
Remove excess grout from tile surfaces as soon as possible, and then leave to dry for around half an hour. Finally, a damp emulsifying pad or sponge can be used to clean any remaining grout residue from the tile surface.
Saint-Gobain Weber
Saint-Gobain Weber (opens in new tab) specialises in the manufacture of industrial mortar products including tile fixing products. Its weberjoint premium flexible wall & floor tile grout is scratch-resistant, water-repellent and contains PURE CLEAN anti-stain and Mould Stop technologies. It is suitable for use inside or out and on walls or floors. It can be used with underfloor heating and is available in 18 colours, including browns and greys chosen to complement wood-effect floor tiles. Find a Saint-Gobain Weber stockist near you through the store locator.
Homebuilding & Renovating Newsletter
Get the latest news, reviews and product advice straight to your inbox.
Thank you for signing up to Homebuilding. You will receive a verification email shortly.
There was a problem. Please refresh the page and try again.